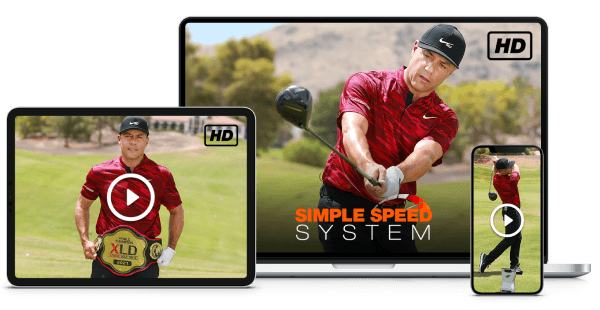 Here's the thing…
After using The Automatic Accuracy System your dispersion pattern will be so tight…
That I know you'll be chomping at the bit to release the brakes and really let it fly…
This series shows you exactly what to do on the range….
So You Increase Your Swing
Speeds AND Get Maximum

Distance With Your Driver
WITHOUT swinging harder.
And that's why inside this series… I'll show you ONE simple tweak you can make to your setup…
… that will automatically have you flushing the sweet spot…
And hitting up on the ball…
… sending your drives higher and farther than you've ever seen before.
Hitting that first monster drive…while your buddies watch in amazement…
Is gonna feel awesome.
The Simple Speed System Bonus
Has Over A Dozen
Step-By-Step
Training Videos That Walk You

Through EVERYTHING You Need…
To increase your clubhead speed…
Explode through the impact zone…
And add even more distance to your drives.
It's actually a full blown training series that sells for $197 on our website…
But since you've shown so much dedication to fixing your accuracy issues today…
And I want you to have everything you need to DOMINATE with your driver….
I'm adding in this special bonus FREE when you get started today.