As Featured In:



Golf Journalists Say
This Is The Most Forgiving, Reliable 3-Wood

Ever
Invented For Amateurs To Flush Every Shot Off The Ground… 
The World's First 3 Wood With
Easy Strike Technology Specifically
Engineered For Amateur Golfers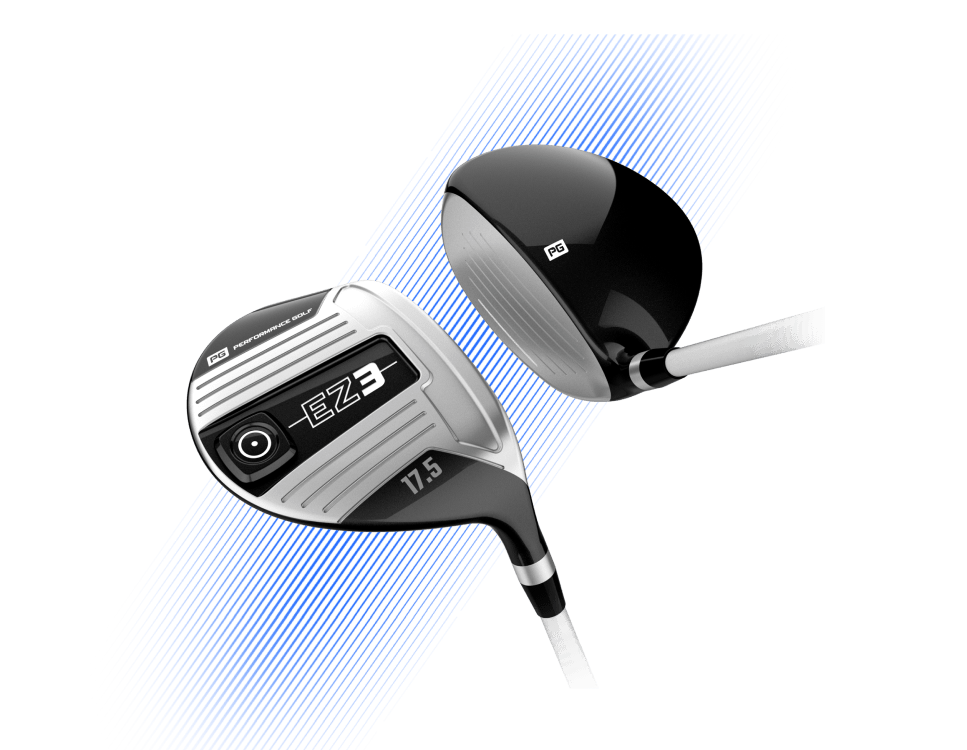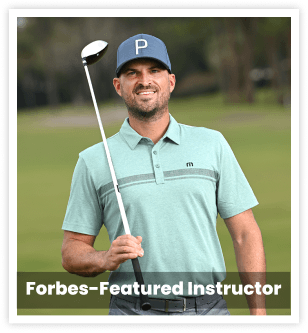 Hi, I'm Eric Cogorno…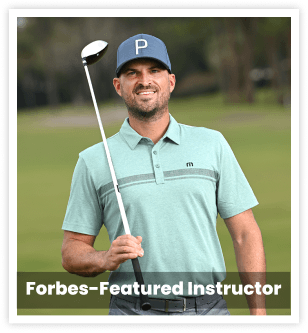 And this revolutionary new club guarantees THREE things:
You'll hit high-launch shots off the ground — no matter how
bad the lie…
More margin for error will give you consistently flush contact…
And it's EASY to hit off the deck — without changing your swing.
It's all thanks to a breakthrough called Easy Strike Technology — that
brings these unique features together into a 3 wood, for the
first time ever:
Feature 1
The
Perfectly-Calibrated


Precision-Launch Loft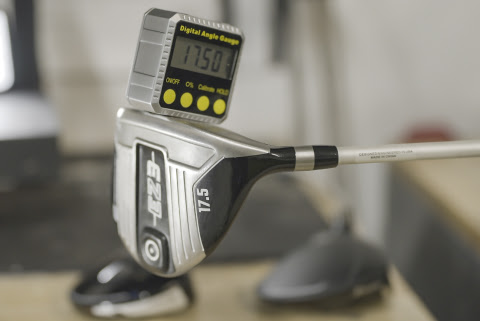 The first feature is the perfectly-calibrated
17.5 degrees of "Precision-Launch Loft."
After analyzing millions of amateur golf
swings we found 17.5 degrees is the
OPTIMAL loft angle for amateur golfers
with swing speeds below 100 miles per hour…
To get your ball sailing into the air effortlessly.
And even if you do swing over 100 miles
per hour…
The Precision Launch Loft makes the EZ3 play more
like a hybrid…
BUT…
It Gives You
MORE Distance


Than
Your Current 3-Wood….

That's because unlike mass-produced clubs…

Where you can't always be sure the loft is "as advertised"…

The EZ3's loft is perfectly calibrated for the amateur golf swing.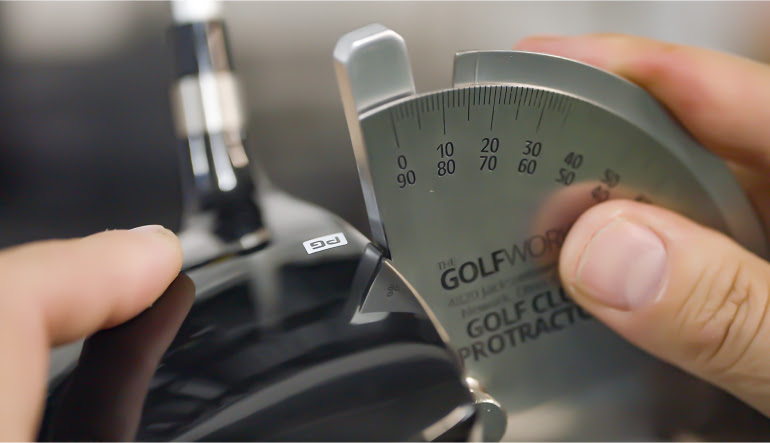 You see — most mass produced 3 woods might say 15 degrees…
But are really 13.5 to 14 degrees.
Even "high-lofted" woods that say 16.5 degrees… are almost ALWAYS turned down, too.
That's why we teamed up with an exclusive manufacturer…
And used a "Pure-Angle" calibration system to GUARANTEE the EZ3 is a TRUE and precise 17.5 degrees.
The Precision-Launch Loft Makes It EASY To Hit

High-Trajectory Shots
From The Fairway
Just pull out your EZ3…
Swing with full confidence…
And you'll see and FEEL instant results, just like this…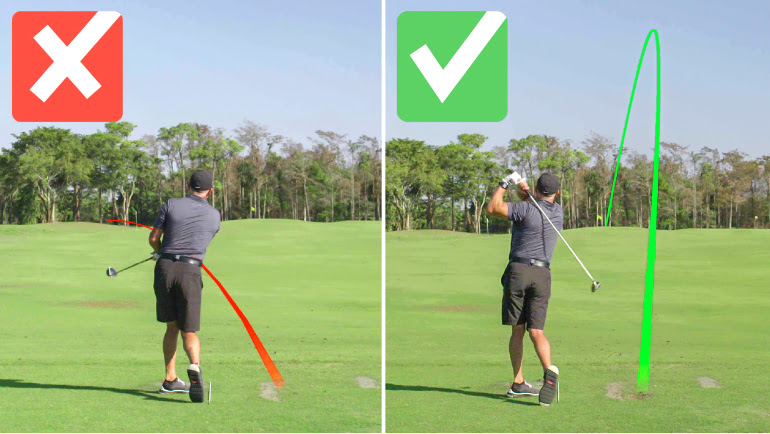 Feature 2
The
"Pure Strike"


Leading Edge
Unlike most 3 woods that have a very small, hard-to-hit edge and sole…
The EZ3's
Forgiving, Softly Curved Leading Edge


Makes It Easy To Hit Pure, Flush Shots Off Any Lie

In other words, the Pure Strike Leading Edge is more like an iron than a fairway wood.

No need to tweak your angle of attack…

No need to stress about where you position the ball in your stance…

And no need to change your swing AT ALL.

The reduced ground friction… with increased margin for error…

Will ensure no matter where the club strikes the ground…

It easily glides across the turf and sweeps the ball into the air.
Just Take Your Same "Iron
Swing" And
The EZ3's Pure
Strike Leading Edge Does

All The Hard Work For You
The lightweight Zero G clubhead with its "Hot Launch Face" and "Aero-Crown" design lowers the EZ3's center of gravity, so…
The EZ3 Feels Truly
EFFORTLESS to Swing
And since the lower center of gravity in the EZ3 is below the ball's midline…
This gives you a higher launch angle at the moment of inertia…
Sending your ball on the perfect trajectory — with controlled spin.
Which also means…
Better Contact, MORE
Consistency And
Deadly
Accurate Shots Off ANY Lie
Feature 4
High-Velocity Shaft
The lightweight and efficient
"High-Velocity Shaft"….
This High-Velocity Shaft gives you a more natural swing speed at the standard 3-wood length.
Because as you know…
The shaft is the engine that drives the club.
And you wouldn't put a Ford Focus engine inside a Ferrari body… would you?
I didn't think so.
That's why…
We Needed The
Best Shaft Design Possible

To
Power The Easy Strike Technology…

So you can easily move the club around your body…

And make consistent center-face contact… every single time.

Plus, you can choose the shaft that's calibrated to YOUR swing speeds.

It doesn't matter if you swing the club 110 miles per hour…

Or barely crack 75.

The High-Velocity Shaft…
Makes It Easy For You (Or Any Golfer) To

Generate Maximum Swing Speed

When You
Customize Your EZ3 Shaft…

When Have You Ever Bought A Club And Also
Received
A FREE TRAINING COURSE INCLUDED?
The EZ Swing System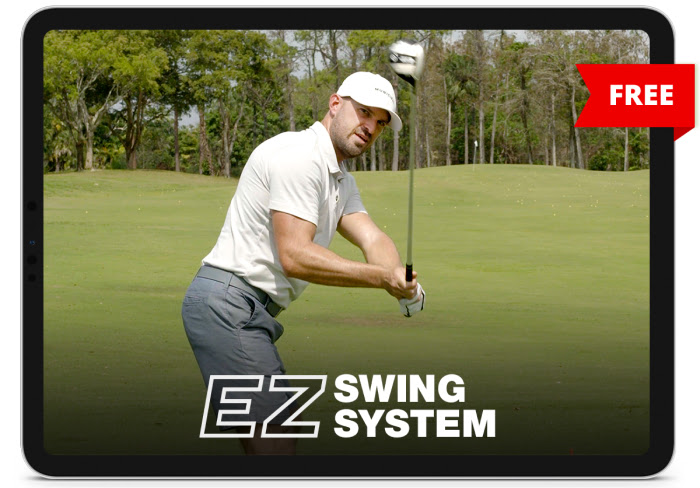 The EZ Swing System is a step-by-step video training that you can use WITH or without your EZ3.
You see…
While the Easy Strike Technology overrides the most common swing faults amateurs make when hitting a 3 wood…
And that alone will give you a huge advantage over all your playing partners…
The EZ Swing System video training is going to make hitting your new EZ3 that much easier. Because it's…
Designed To
FIX The Root Cause

Of The Three Most
Common Amateur Swing Faults:
A negative attack angle…
A lack of clubface control…
And swing speeds below 100 miles per hour.
Giving you even more accuracy and distance…
As soon as you get your new 3 wood.
Meaning you'll be able to…
Pull Your Brand New EZ3 Out Of The Box… And
Make Perfect Contact "On The Screws" With
Machine Like Consistency…
Plus, You Get
4 Exclusive Bonuses

With Your EZ3
BONUS 1
The Easy Tempo Technique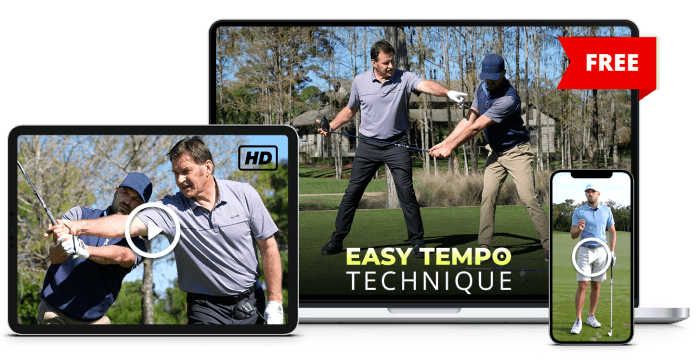 You see… the EZ3 is generally going to be your SECOND shot on long par 4s and 5s.
And that's EXACTLY why I'm giving you the Easy Tempo Technique…
Because I want you to have the same confidence with your DRIVER.
After all, one of the greatest golfers of all time, Sir Nick Faldo, said:
"Tempo is the glue that holds the swing together."
And while that's true with every club, including your 3 wood…
It's MOST important with your driver.
So I Teamed Up With 6-Time Major Champion Sir
Nick Faldo And We Created This Video Course
To Fix Your Drives
We filmed a series of videos where he shares a simple tempo technique to dial in your consistency and accuracy off the tee…
So you can easily hit 10 to 12 fairways per round…
And set yourself up to use your new EZ3 more often.
Even though the Easy Tempo Technique video training normally sells for $197 on the Performance Golf website…
I'm giving it to you absolutely FREE.… when you say YES to the EZ3 today.
BONUS 2
Winning Wedges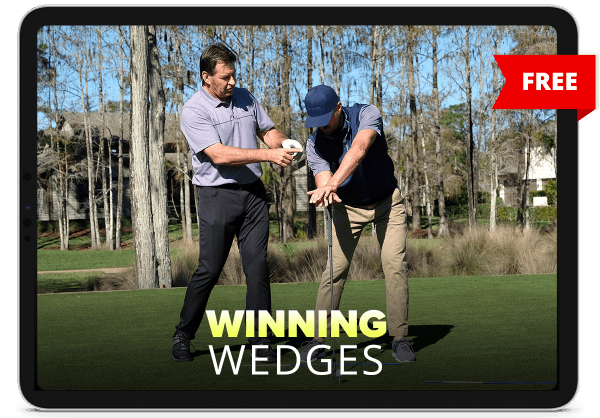 With the EZ3 you have no choice but to make pure, center face contact from the fairway…
And you're going to be launching
high-trajectory shots… directly at your target.
But the truth is… no matter who you are… you're still going to miss the occasional green.
That's why I teamed up with Sir Nick again…
And why we're giving you a proven method to dial in your wedges…
So you can attack flags from 50 yards and in.
I see SO many amateurs picking up unnecessary strokes from inside 50 yards…
And I don't want that for you…
So I'm also giving you the Winning Wedges bonus course 100% free.
BONUS 3
EZ3 LIVESTREAM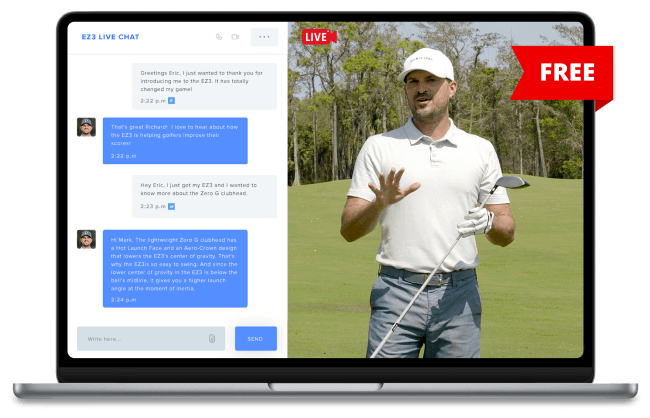 I'm ALSO going to host a live group coaching session…
During the live session, you'll SEE me demonstrate key drills and practice routines with the EZ3.
Plus I'll give you personalized feedback and answer any questions you have about the EZ3 and all the bonuses.
Of course… if you can't make it LIVE, you'll have access to the replay for life.
Normally, you'd have to invest at least $300 to join a live training like this.
But today I'm making this available to new EZ3 owners like you… for free.
Just for trying the EZ3.
BONUS 4
Free 14-Day All-Access Scratch Club Pass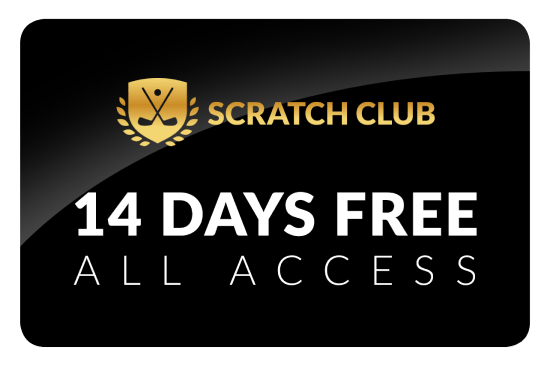 A FREE 14-day pass to our exclusive Scratch Club.
Scratch Club is your "All-Access Pass" to never-before-seen video training from some of the world's top golf instructors.
It's designed to give you a clear plan on how to drop enough strokes from your scorecard every month to have a REAL, respectable handicap…
You Can Think Of Scratch Club
As "The Netflix Of Golf"…
Just choose the part of your game you want to improve… and you'll find a clear step-by-step plan from some of the world's greatest teachers.
And I think you'll love this part most… you get to take a full 14 days to see how incredible Scratch Club really is…
If you love it, then do nothing and we'll keep you on as a charter member for a discounted price of just $29/month, which will bill automatically.
You can cancel any time by emailing support@performancegolf.com.
That's Over $691
In Bonus Training
Absolutely Free
Are you seeing what's happening here?!
You're not just getting the most forgiving… high-percentage 3 wood ever designed…
You're getting everything you need to NEVER struggle with your approach shots ever again.
And as if that weren't enough… we're going to make sure this decision is an absolute no-brainer.
Because…
You're Covered By The Industry's First

365-Day, "Easy-To-Hit-Or-It's-Free"


100% Money Back Guarantee…
PLUS, our unconditional refund policy.
That means you can try the EZ3 completely risk-free…
And take up to an entire YEAR to see the difference it makes in
your approach shots.
If you're not striping shots off the fairway…
If you don't love it more than your current 3 wood…
And if you're not completely thrilled with the results you get…
All you have to do is send us an email any time within the next YEAR to support@performancegolf.com…
And our trained customer support staff will send you instructions on how to return it…
So we can credit you a payment for 100% of the amount you paid.
I'm THAT confident you're going to LOVE the EZ3 that I'm willing to let you try it out for a full year.
So don't wait another second — click the button below right now and…
We'll Rush Your EZ3 Out To You Immediately
And We'll Pay Shipping
You'll get instant access to the entire EZ Swing System and bonus videos….
And once your EZ3 arrives on your doorstep…
Unbox it… head over to your driving range…
And watch what happens next!
No need to change your swing…
No need to even swing harder or try to hit up on the ball…
Just immediate gains in your contact and ability to hit high-trajectory shots off the deck…
With greater accuracy and consistency — guaranteed.
So what are you waiting for?
GET YOUR EZ3 RUSHED OUT TODAY!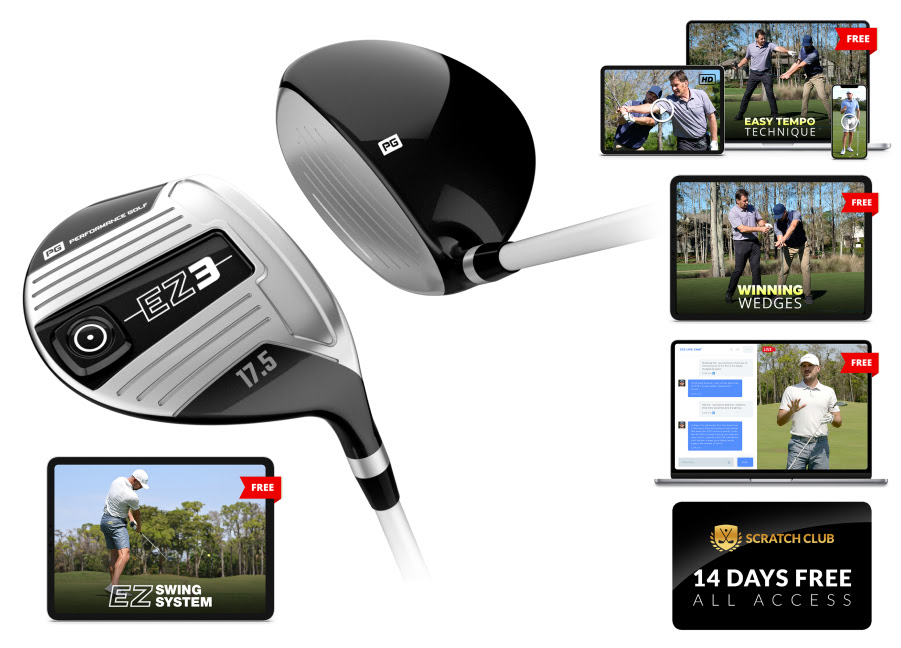 Easiest 3-Wood To Hit Off The Deck Ever Designed
Launches Higher Than Traditional 3-Wood
Easy Strike Technology To Flush Every Shot
Plus The EZ Swing System
Video Training
AND $691
in
FREE Bonus Training
TOTAL VALUE: $990
YOUR PRICE: $189
We Pay Shipping!
(*Customize Your Shaft Flex On The Next Page*)
365-Day 100% Money-Back
Guarantee
And Unconditional
Refund Policy
Meet The Team Behind
The EZ3 And Its Easy Strike Technology
Eric Cogorno
Forbes-Featured Instructor
35,000+ Lessons To Amateurs
"There's never been an easier 3-wood for amateur players to hit. I think the EZ3's going be a new secret weapon for anyone looking to get on in regulation more often! This EZ Strike Technology is far better than anything I've seen on the market today."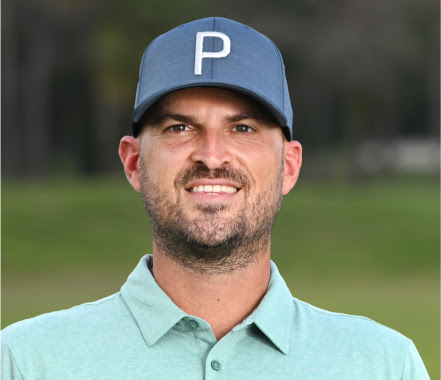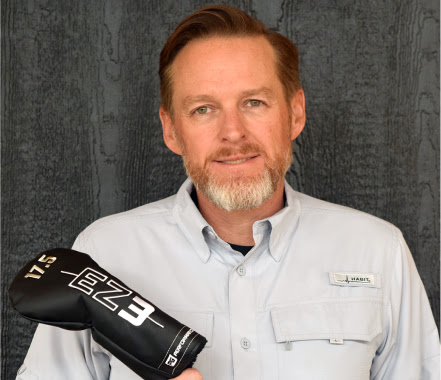 Josh Boggs
Former Senior Advanced Innovator at Nike
One Of The Former Designers
For Tiger
"I designed this specifically for amateurs to launch higher, straighter shots from the ground. We see so many players leave their 3-wood in the bag because it's hard to hit. My goal was to change that and give guys something they can count on. EZ3 does the trick."
Brixton Albert &
Performance Golf
CEO and Founder – Fastest Growing Online Golf Company (Inc. Magazine)
Over 300,000 Happy Members
"The EZ3 is designed to give amateurs exactly what they need — a confidence club they can rely on. I tested probably 100 different ideas for this new club, and what we've landed on is better than I could have ever imagined. It's hands down the easiest 3-wood to hit off the ground. Can't wait for more players to try this club."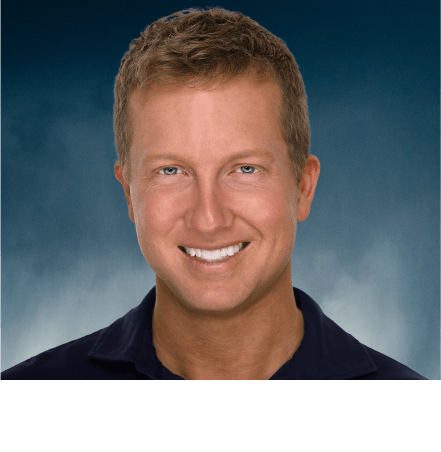 FAQ's
Get All Your Questions Answered
The answer is… immediately.
That's the beauty of the EZ3.
You don't have to adjust your setup…
Try to swing out of your shoes…
Or change anything else about your swing.
All you have to do is swing the club a few times to get a feel for it…
And you'll immediately make better contact and launch high-trajectory shots off the deck with more accuracy.
It's as simple as that.
To benefit from a standard modern 3 wood…
You'd need to spend weeks, months, or maybe even years… developing the correct angle of attack, and necessary clubface control and swing speed.
Problem is…
99 out of 100 amateur golfers I work with simply don't have the time or patience to put in this kind of work.
Not to mention the willingness to put this kind of wear and tear on their body.
But that's the great thing about the EZ3.
It's specifically designed FOR the amateur golf swing…
So there's no need to change up your swing…
Hit thousands of balls…
Or take in-person lessons.
As soon as you pull your new EZ3 out of the box…you'll stripe pure, center-face shots off the deck…
That fly right on target and make lower scores inevitable.
The EZ3 is the ONLY 3 wood that uses proprietary Easy Strike Technology… specifically designed to optimize performance for amateur golfers.
So I can guarantee the EZ3 is VERY different from your current 3 wood.
Because without changing anything about your swing, you'll immediately see a "night and day" difference in your ball flight…
All thanks to the features that make up the Easy Strike Technology:
The Precision Launch Loft to send your ball high off the turf…
The Pure Strike Leading Edge to catch your ball flush no matter where your club hits the ground…
The Zero-G Clubhead to launch your ball off the center of the HOT clubface…
Plus, the High-Velocity Shaft to give you more swing speed… with an EASIER swing.
That's why golfers everywhere are trading in their 3 wood for the EZ3.
Simple: This is a step-by-step video training system I perfected in over 35,000 lessons…
To fix the root cause of the most common fairway wood swing faults.
You can use it with or without your EZ3… and it makes hitting the EZ3 much easier…
Giving you even better contact… more accuracy and added distance… after just a few sessions on the range.
Inside this training, you'll discover…
The 5 Fairway Wood Fundamentals that you NEED to consistently sweep the ball off the ground…
WITHOUT tweaking your swing.
The "Attack Angle Advantage" that instantly levels out your swing plane into the ball…
And makes it easy to launch your ball high… so it lands soft… off ANY type of lie.
The Clubface Control Trick that gives you NO CHOICE but to control the clubface — from setup to impact… after just 5 practice swings…
Plus a simple technique to gain an easy 3 to 7 miles per hour in swing speeds — without swinging harder.
And when you combine ALL THIS with my ball position drill that makes hitting your 3 wood easier than a 7 iron…
You WILL start launching your EZ3 higher and MUCH farther than ever before.
And that's just the tip of the iceberg when it comes to the EZ Swing System…
Because I share much more inside.
And remember… the EZ Swing System is totally FREE when you get your EZ3 today.
Well, first of all, if that happens you'll be an outlier…
Because the EZ3 is already working for tons of amateur players of ALL skill levels…
From beginners, to intermediates, and even more advanced golfers who want a scoring advantage over their buddies.
So I'm 100% confident it will work for you.
Still, in the extremely unlikely event it doesn't work for you… or you simply don't like it.
You're covered by the industry's FIRST 365-day, "Easy-To-Hit-Or-It's-Free" 100% Money Back Guarantee…
Which includes an unconditional "no-questions-asked" refund policy.
If you're not completely thrilled with the way the EZ3 transforms your approach shots from the deck…
All you have to do is send us an email any time within the next YEAR to support@performancegolf.com…
And our trained customer support staff will send you instructions on how to return it…
So we can issue you a 100% refund.
It's typically shipped out within 48 hours of placing your order and then takes another 2 to 5 business days — depending on where you live.
International customers might need to wait up to 2 weeks for their EZ3 to arrive, not including any additional time for customs clearance.
But if you want to get your EZ3 faster… you can choose priority shipping on the next page and we'll rush it out to you as fast as possible.
Do that…
And you can start hitting pure, high launching shots from the fairway… THIS WEEK!
The answer is: "Yes"…
Because the EZ3 works equally well for players of all levels.
As I've said, it's the biggest "edge" you can give yourself…
Because you'll instantly start making perfect, center-face contact from the fairway…
Without having to change ANY part of your swing.
Unlike a mass-produced 3 wood… The EZ3 doesn't require you to have a perfectly level angle of attack, pro-level timing, and swing speeds of at least 110 miles per hour.
Instead, the Easy Strike Technology is built specifically for amateur golfers of ALL ages, skill levels, and physical abilities…
So you can immediately use it to hit pure on-target shots off the ground.
When you order your EZ3 TODAY — you get the EZ3, the must-have EZ Swing System…
And four insanely valuable bonuses that include…
The Easy Tempo Technique and Winning Wedges…
Two video courses I filmed with Sir Nick Faldo, that sell for $294 on the Performance Golf website…
Plus access to join the EZ3 LIVESTREAM Coaching Session with me, worth $300.
And you get trial access to Scratch Club, valued at $97…
That's over $691 in bonus training I'm handing absolutely FREE when you invest in the EZ3 today.
Plus, you get the peace of mind of knowing your investment is protected by Performance Golf's industry-leading, 365-day money back guarantee.
It doesn't get much better than that.
So if you're ready to hit high trajectory shots off the ground with ease…
That fly farther than ever… and directly on target…
Then click that button above now to get your EZ3 shipped direct to your door within a matter of days.
If for any reason you have other questions… feel free to email support@performancegolf.com or give us a call at 1-800-523-5760…
And our friendly customer support team will take care of you.
I hope that helped… and I can't wait to hear how well you play after adding the EZ3 to your bag!