Golf's
#1

Driver
Replacement for
Amateur Players
Generates More
Distance

, Boosts

Accuracy

, and Dials-In Your

Control

— Without Changing Anything In Your Natural Swing

Did you know your driver may be costing you up to 30 yards of distance off the tee?

The reason is simple: Because clubs designed for tour pros are NOT ideal for amateur golfers. They are heavier… Require more skill to maneuver… The sweet spot is smaller…

All of this makes short drives, shanks or slices much more common.

But what if I told you I've found a club that combines driver technology, hybrid accuracy, and 7-iron feel all in one…

Can you imagine how much easier that would be to hit?

Well it's your lucky day…

Because with the GX-7 X-Metal breakthrough sweet-spot technology, you can get those yards back, start hitting more fairways than ever before, and never have to worry about shaking over a big driver swing again.

PLUS, get a FREE wedge with the same game-changing technology just for
taking your new GX-7 for a test-drive.
And that's not all…
Try the GX-7 for 60 days and if it's not the longest, straightest, easiest-to-hit, and most versatile club you've ever played, they'll refund your money.
How's that for standing behind your product?
Just to be clear, you can hit the GX-7 to your heart's content…
Pound buckets of range balls off tee, turf or mat…
Play all the holes you can humanly handle…
In the rain, sun, sleet or snow…
And should you reach the end of 60 days without marked improvement in your long game… or you're dissatisfied with the GX-7 for any reason whatsoever…
Just send it back, and they'll refund every single penny you paid for your GX-7.
To learn more about how it scientifically helps you increase flush contact, distance, and consistency — all with the easy swing and feel of a 7-iron — click the link below:
Unconditional 60-day
Money-Back Guarantee
To better golf,

Brixton Albert
Founder, Performance Golf Zone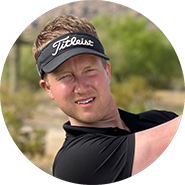 P.S. And it's not just me raving about GX7 either…