This "Swiss Army Knife For Your Short Game"
Is A Simple Way To Make Your Chipping
"CHUNK-PROOF"
So You Can Step Up To Greenside Shots Full Of Confidence…
Make More Up-And-Downs, And Hole Out Way More Chips!
If you're like most amateur golfers…
Then standing over a greenside chip isn't going to fill you with confidence…
And way too often you'll end up chunking one or blading it through the green.
But today that's going to change…
Because there's a new "utility wedge" that is transforming amateurs' short games across the country.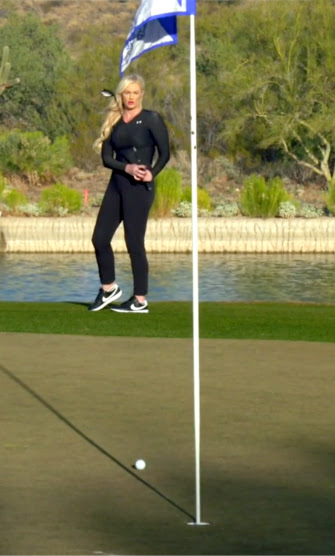 You see, traditional wedges have a sharp
leading-edge that's designed to "dig" into
the turf…
So when most amateurs use a traditional
wedge for chipping…
They don't quite have the technique required
to make good contact…
And the result is those embarrassing chunks
or thin shots.
That's why this new utility wedge is so great
around the greens…
It makes it easier than ever to play those tricky
greenside wedge shots that usually end in
disaster…
Because unlike conventional irons and wedges
that are not made for chipping…
This wedge has been designed specifically for one purpose…
Precision chip shots.
So what is this utility wedge…?
It's the new P3 Pyramid Pharaoh Wedge…
A Utility Wedge That Literally
"Chunk-Proofs" Your Chipping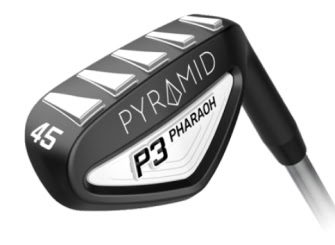 The Pharaoh Wedge is designed to make
scoring around the greens effortless…
So you can step up to your ball with confidence
every time you're around the green…
Knowing you've got a real shot at getting
up-and-down.
That means less blow-up holes…
More chances at par…
And golf buddies who'll be wondering how on earth your short game improved so quickly!
The Pharaoh Wedge really is THAT good around the greens…
And there are 3 main reasons why…
1) The Pharaoh Wedge's Slide-Rail Technology Makes Chipping Easier Than Ever
The designers of the Pharaoh Wedge added a series of slightly raised "Slide-Rails" from heel to toe…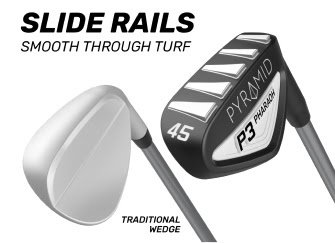 This helps the clubhead cruise through tall
grass unimpeded…
And makes it next to impossible to chunk
your chips or hit thin shots that fly through
the green.
The rails serve a purpose on tighter turf, too…
by squaring the clubface before you contact
the ball.
This results in shots that fly off the Pharaoh straight where you aim it…
Meaning deadly accurate chips from anywhere around the green.
2) The Pharaoh Wedge Is Built More Upright To Make Chipping Simple
The upright lie and shorter shaft of the Pharaoh Wedge gets you closer to the ball…
Which allows for a simpler swing path and a basic, back-and-through swing using your arms and shoulders.
This results in less complexity in your swing when chipping…
Which means less mistakes…
Better contact on your chips…
And way more chances to get up-and-down for lower scores.
3) The Pharaoh Wedge Has A 20% Heavier Head For Better Contact And More Consistency
Another thing that sets this club apart is how the head is about 20% heavier than a typical wedge.
This really helps to take your smaller muscles out of play when chipping…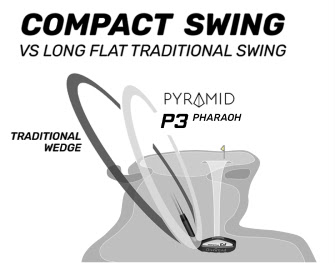 Because it limits your hand and wrist action
while engaging your arms and shoulders
(which are much more reliable and consistent).
That means if you tend to get a little "handsy"
or try "scooping" the ball…
The heavier head will help you make way
better contact on your chip shots.
In fact, the Pharaoh Wedge makes chip shots
from all different lies feel almost effortless…
So if you're sick of throwing away shots around the green…
And want a simple way to dial-in your short game so you can get up-and-down more often…
Then I highly recommend you try a Pharaoh Wedge for yourself.
Even better… for Performance Golfers we have a crazy discount where you can get 20% off a new Pharaoh Wedge today…
PLUS you can take advantage of this amazing offer risk-free with…
A 30-Day, Money-Back Guarantee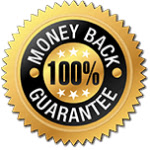 That's right… Order the Pharaoh Wedge today and you get a full
30 days to try it out.
You can hit this wedge literally all you want during those 30 days.
And if it doesn't improve your short game, simply send it back for
a full product refund.
No questions asked. No risk to you.
That's how confident they are that the Pharaoh Wedge will come out on top.
But be warned…
I know that the Pharaoh Wedge has gone out of stock before because it's so popular…
So I suggest you grab one while you still can…
And make the most of this killer 20% OFF deal we secured for you at the same time.
Simply click the link below and choose your Pharaoh Wedge…
Then add it to your cart, and order today using their secure checkout process.
YES, I Want To Chunk-Proof My Chipping
To Get Up-And-Down More Often

30-Day 100% Money-Back
Guarantee
To holing more chips,

Brixton Albert
Founder, Performance Golf Zone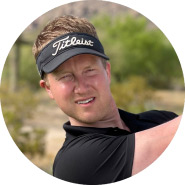 P.S. Check out these players who already got a Pharaoh Wedge and are feeling way more confident around the greens…

"Excellent club and outstanding results. No fat shots ever… ball gets up with every swing! Thank you!!!"
– John S.

"These Pyramid wedges work like a charm! They are very easy to hit with and it increased my confidence with short chips and bump 'n runs."
– Ali E.

"The club looks quality and feels that way in my hands. I am chipping better than ever since I got it."
– Randy C.

"It's very easy to use, the ball checks up really quick. Works great out of the bunker. My buddies couldn't believe it was me chipping those shots."
– Kenneth J.

"With my new Pyramid Putter I am KILLING it on the course…thank you!!"
– Larry H.
YES, I Want To Chunk-Proof My Chipping
To Get Up-And-Down More Often

30-Day 100% Money-Back
Guarantee
P.P.S I purchased and tried the Pharaoh Wedge myself — and I was impressed how easy it made chipping from a tight lie.
You can see my receipt below…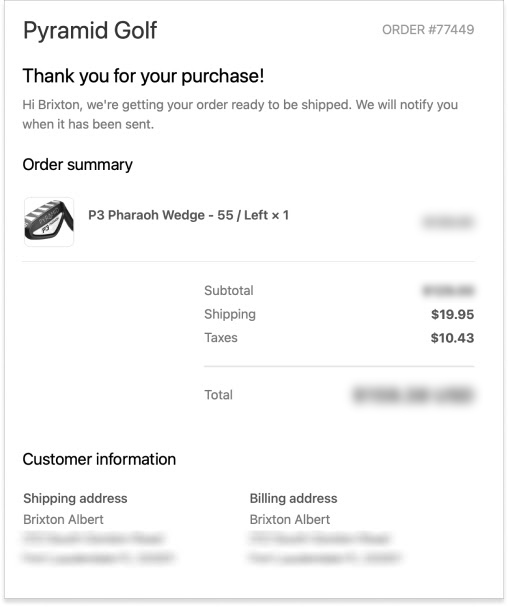 To get a Pharaoh Wedge for yourself at 20% OFF, all you have to do is click the button below and it'll take you to their website.
Once there, just add the Pharaoh Wedge of your choice to your shopping cart, and use their secure checkout process to get one shipped to you within a matter of days.
Remember that getting your Pharaoh Wedge is risk-free too, as you get a full 30 days to try it out and see if it's right for you.
But like I said earlier…
I know that the Pharaoh Wedge has gone out of stock before because it's so popular…
So I suggest you grab one while you still can.
Simply click the button below to get yours…
YES, I Want To Chunk-Proof My Chipping
To Get Up-And-Down More Often

30-Day 100% Money-Back
Guarantee