AS FEATURED IN:




AS FEATURED IN:




Jack Nicklaus' and Phil Mickelson's Former Coach Says
This New Slice-Fix Solution Works For Amateur Players…
On The Course… Where It Matters Most
NO-FAIL

SLICE FIX

In this video, you'll discover:
The REAL reason no other slice-fix works for you on the course where it matters most (hint: you don't need more swing thoughts!)
How this new no-fail slice fix leverages the science of Formula 1 race cars to give you a slice-fixing visual…
What it takes to eliminate a decade-long slice without hours on the range, taking lessons, or investing thousands of dollars in training…
Why no swing technique, no offset driver, and no training aid works as fast or as reliably as this new slice-fix solution…
Where Rick Smith has been perfecting this slice-fix and why he's never released it publicly (before NOW!)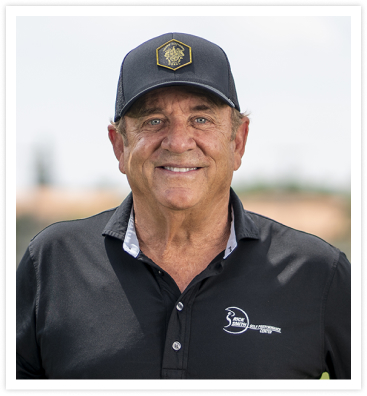 About Rick Smith
You've probably heard of Rick Smith as the coach to major champions like Jack Nicklaus, Phil Mickelson, Lee Janzen, Paul Azinger, Vijay Singh, and Rocco Mediate. Or seen him featured on the cover of Golf Digest as the instructor who's known for having the "World's Fastest Slice-Fix Fundamentals." Or maybe you've even been one of the over 200,000 amateur students who's attended a Rick Smith Golf Academy.
But what you probably don't know… is that Rick has been staying out of the limelight and teaching behind the scenes for the last 20 YEARS to perfect a Slice-Fix that he says "will change the game of golf."
After instructing, testing, and studying the data of over 85,000 amateur players, Rick's finally ready to give away his long-awaited slice fix inspired by the engineering of Formula 1 cars. As crazy as that sounds, everyone who's seen this thinks this is perhaps the most remarkable swing breakthrough in decades.



Here's Everything You're Getting Today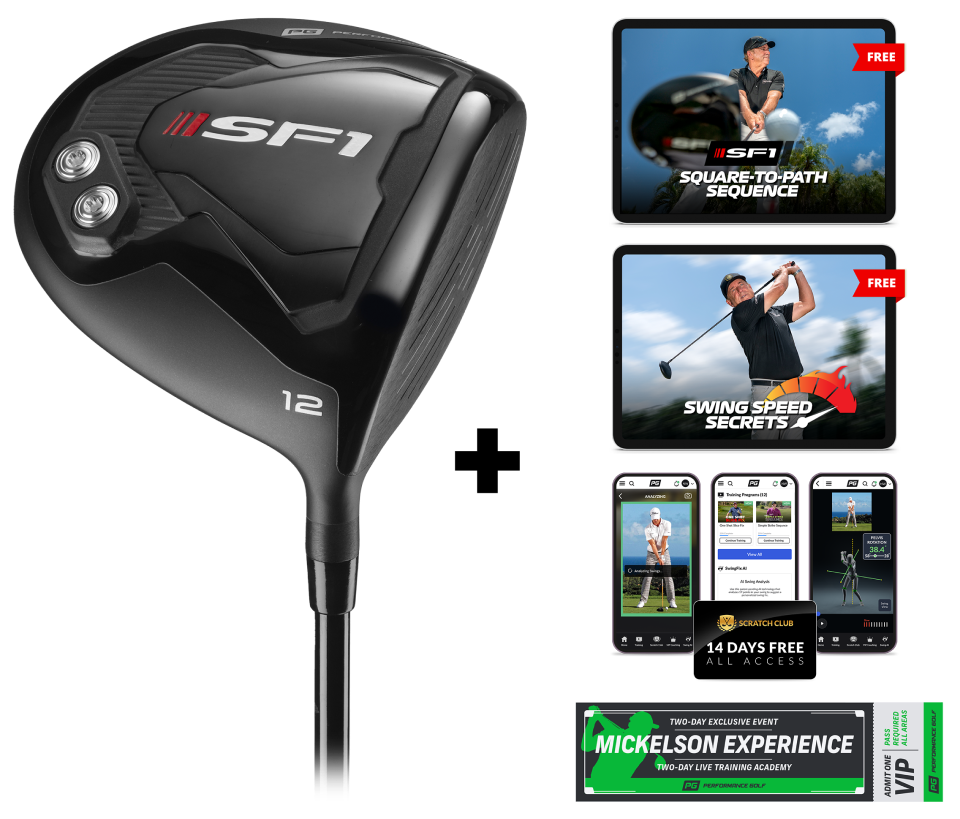 The SF1 Driver
Squares the clubface to your path for you

by fixing the hardest part of what's causing your slice right now…

Combines all the best anti-slice features into ONE club


(creating a phenomenon called "the slice-fix effect")
The

AeroSquare Crown increases toe speed

in your downswing to square the face, relative to your path, FOR YOU…

Gives you visual feedback

to install an on-plane takeaway and an inside-out path (giving you a draw-pattern swing)
And most importantly, it turns your slice into a straight shot (or controlled cut)
FREE Bonus 1: The Square to Path Sequence Video Training
Watch this training video before your SF1 arrives on your doorstep.
Because the Square-To-Path Sequence fixes your swing flaw at the root.
Reverse your over-the-top move in just 5 minutes of practice swing each week, giving you a draw-producing path.
Plus, it gives you a swing path that works with ANY club. Even if you don't have a lot of time to get out on the range.
FREE Bonus 2: Swing Speed Secrets Video Training
Increase your swing speeds up to 7 MPH… without having to hit balls. You can practice at home, in the office, or even on the range before your round.
Watch this video training BEFORE your driver arrives and the first time you hit your SF1… you'll be shocked how much farther you're hitting the ball.
FREE Bonus 3: Performance Golf App AND 14-Day All-Access Pass to Scratch Club Elite
Get instant access to all your training and bonus courses inside this user-friendly app. Never again practice without having your coach in the palm of your hand.
Plus, get a 14-Day Free Pass to the "The Netflix of Golf" – with a proprietary handicap-reduction system designed by some of the greatest coaches in the world.
Follow the Scratch Club Elite System and drop 5 strokes from your handicap in your first month alone. (14 days FREE, then $29/month. Cancel anytime.)
FREE Bonus 4: The Mickelson Experience
(1 Free Entry)
You'll automatically be entered into a drawing for the IN-PERSON Mickelson Experience. That's right, you have a chance to win an ALL EXPENSE PAID TRIP… where you'll join me for a 2-day LIVE training academy.
This is a once-in-a-lifetime opportunity that you can only get a chance to win when you get the SF1 on THIS page.
SOLD OUT: PRE-ORDER TODAY TO BE THE FIRST
TO GET AN SF1 FROM THE NEXT SHIPMENT
Total Value: $1090

TODAY ONLY: $299
YOUR PRICE: ONLY $299
(Save 73% today on this page only)
(Save 73% today with this limited time special offer)
We pay shipping

How can I be sure it
will work for me?
Dozens Of Amateurs Already Love The Club…
Because it works no matter your age…
No matter your swing speed…
And no matter how long you've been slicing.
The results speak for themselves…
What if I don't  like it?
Your Getting The Industry-Leading

"Square-The-Face-Or-It's-FREE"


365-Day Money-Back Guarantee
Plus, our unconditional refund policy…
That Means You Can Try The SF1
Completely Risk-Free
Here's the deal:
If you're like the overwhelming majority of
golfers who've tried the SF1… 
From the very first time you pull it out of your bag you'll be blown away by how it squares the face for you… 
Reverses your nasty slice…
Or turns your uncontrollable fade… into an ultra-controlled cut. 
Or how it even takes your straight drives and gets the ball turning over right to left… 
Adding distance and tee box confidence you've never had before.
In The Highly Unlikely Event You Aren't Blown
Away By The SF1… You Can Get Your Money Back
That means… 
If you DON'T notice your face is more square and flush at impact… 
If you DON'T feel your path more inside, thanks to the Takeaway Tracks and the Square-To-Path Sequence… 
And if you DON'T see the ball not only flying straighter but FARTHER… 
All you have to do is send us an email any time within the next YEAR to support@performancegolf.com…
Ship the SF1 back to us… and we'll give you 100% of your money back.
Total Value: $1090

TODAY ONLY: $299
YOUR PRICE: ONLY $299
(Save 73% today on this page only)
(Save 73% today with this limited time special offer)
We pay shipping

Frequently Asked Questions
Yes. You can use the SF1 in any tournament sanctioned by the USGA rules of golf.
The Square Face Technology in the SF1 works to square your clubface relative to the path at impact. 
So it immediately fixes the hardest part of what's causing your slice right now. 
Plus you're also getting instant online access to my Square-To-Path Sequence video training… 
This sequence fixes and installs an inside-out path into your swing — in just 5 minutes of practice swings each week.
So to put it simply, with the SF1 and the video training you'll immediately and permanently eliminate your slice… within minutes of taking your new driver out of the box.
Unlike Big Golf's one-size-fits-all approach to driver development… or using an offset or heel-weighted driver in an attempt to fix your slice… 
Square Face Technology combines all the best anti-slice technology features into ONE club.
That means the unique features work together to create a phenomenon called the "Slice-Fix Effect". 
The "Slice-Fix Effect" gives you no choice but to consistently square your face relative to the path… And prevent your slice automatically. 
Without sacrificing clubhead speed, distance or making ANY adjustments in your swing. 
Thanks to Square Face Technology, the SF1 OUTPERFORMS every slice-fix solution I've ever come across…
Hands down.
The short answer is, yes. 
But attempting it on your own would take a lot longer… and your chances of success are low. 
Because virtually every slice-fixing technique that's out there… even my own…  
All "attempt" to do the SAME THING for you: Square the clubface relative to the path of your swing.
But let's be honest. 
You don't always FIND a slice-fixing technique that squares your clubface at impact…
And if you do, you don't have the time to practice long enough, OR consistently enough to make it "stick". 
So for most players what happens is, their new 'slice fix' falls apart ON THE COURSE… when it matters most.
The SF1 changes all that. 
The SF1 squares the clubface for you. So it's hands down the FASTEST, most RELIABLE way to fix your slice… And crush fairway-splitting drives on command.
Well, first of all, if that happens you'll be an outlier…
Because the Square Face Technology and Square-To-Path Sequence… give you a draw producing path, and face… and make slicing, near impossible. 
In fact, amateur players like you have already used it to correct their slice. And they're now hitting draw after draw. 
Still, in the extremely unlikely event the SF1 doesn't work for you… or you simply don't love it… 
You're covered by Performance Golf's Industry-LEADING 365-Day, 100% Money Back Guarantee…
Which includes a no-questions-asked, unconditional refund policy.
If you're not 100% thrilled with the SF1… 
And how it gives you complete confidence you can hit the fairway on literally every tee shot… 
All you have to do is send us an email any time within the next YEAR to support@performancegolf.com…
And our trained customer support staff will send you instructions on how to return it for a full refund.
It's typically shipped out within 48 hours of order placement and then takes another 2 to 5 business days — depending on where you live.
International customers might need to wait up to 2 weeks for their SF1 to arrive, not including any additional time for customs clearance.
But if you want to get your SF1 faster… you can choose priority shipping on the next page and we'll rush out your driver as fast as possible. 
Do that… and you can start hitting more fairways as soon as this week!
Yes, the SF1 works equally well to help golfers of all levels…
Because the Formula 1-inspired features fix the biggest reason why you slice… and eliminate your slice permanently by squaring your clubface to the path FOR YOU.
So it doesn't matter if you have a nasty slice that causes you to lose multiple golf balls each round…
Or a slight fade that makes it hard to score well and can get out of control sometimes…
The SF1 helps any golfer hit more fairways, gain up to 35 yards off the tee… and have FULL on-course confidence so you can play your BEST golf. 
When you order TODAY — you get the SF1, plus the must-have video training sequence and bonuses, including:
The Square-To-Path Sequence Video Training worth $297.
The Swing Speed Secrets Training, which normally sells for $197.
Exclusive access to the Performance Golf App… 
With a free 14-Day All Access Pass to the 'Members Only' Scratch Club Elite… 
And last but not least… 
You'll also be automatically entered into a drawing for the IN-PERSON Tiger Experience.
Of course, you also get the peace of mind of knowing your investment is protected by Performance Golf's industry-leading, 365-day money back guarantee. 
It doesn't get much better than that. 
So if you're ready to fix your slice…
And hit fairway after fairway – consistently.
Then click the button above to secure your SF1, the first and ONLY Slice-Fix Driver — with Square Face Technology — inspired by Formula 1!