Golf Digest's "Hot List" Medal
Winners Release
Breakthrough
"Anti-Chunk, No-Miss"…
Square Strike
Wedge
That Shaves 5-8 Strokes from
Your Scorecard
(Using Nothing
But a Putting Stroke)
When's the last time you chunked a putt?
… Skulled one clear off the green?
… Missed your intended line by 10-plus feet?
… Made contact an inch or more off the sweet spot?
… Cold-shanked a 20-footer?
When's the last time any of that happened with a chip?
Think about that for a second…
Really think about the percentage of chunked chips versus chunked putts…
Don't worry: I know the answer already.
Now, what if I told you that I've discovered a groundbreaking new wedge that allows you to chip with a putting stroke…
Can you imagine what that would do for your game?
It would eliminate fat chips..
It would eliminate thinned chips…
It would give you laser-like accuracy…
It would shave 5-8 strokes off your scorecard overnight…
Well that's exactly what you have waiting for you with this new club.
The #1 Wedge for
High-Handicappers

Looking For a Secret
Weapon Around the Greens
Thanks to the new Square Strike Wedge, getting up-and-down is as simple as using your putting stroke…
Why?
Because this new wedge — designed by Golf Digest's "Hot List" Medal Winners — is breaking all the rules when it comes to wedge design…
They created a club that has the golf world spinning on its head…
Here's how?
It's so easy to use that you'll be able to chip it stiff from anywhere.
You'll also be free from card-wrecking "two-chips" and other greenside blunders.
And instead of fretting about all the things that might go wrong, you'll size up every pitch thinking, "I can hole this."
That's a far cry from where you are now, right?
If it makes you feel any better, you've got lots of company.
Amateur golfers from here to Timbuktu struggle with this seemingly simple part of the game.
Frankly, it's always been a mystery to me.
I mean, if anything in golf should be easy, it's chipping.
New Wedge Technology
Changes Everything

(Even if You're a 20
Handicapper)
Check out these two leading features that had me chipping in from 40 feet over and over again (YES, watch the video above for proof!)…
Anti-Chunk Sole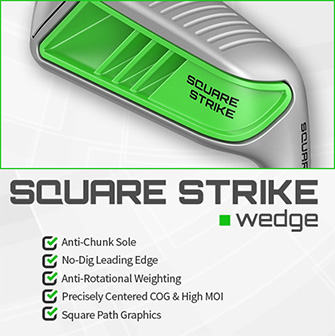 Extra-wide and gently curved from back to front and heel to toe, the Square Strike Wedge's sole glides along the turf with silky smoothness.
Hit behind the ball and the clubhead will keep right on moving to assure crisp, clean contact – eliminating the ugly fat shots your traditional short irons produce.
The Anti-Chunk Sole also features a series of shallow grooves to reduce friction in sticky or matted grass.
No-Dig Leading Edge
Unlike the sharp edge of a pitching wedge or short iron, the Square Strike's beveled (angled) leading edge prevents the club from digging.
Pair the No-Dig Leading Edge with the Anti-Chunk Sole and, as tester Tony Sodoro said, "You cannot hit this club fat. I tried."
Now, there are many features that make this the most deadly wedge on the market…
But I want you to see for yourself…
So if you're interested in shaving 5-8 strokes off your scorecard…
Never hitting a chunked chip again…
And have the accuracy of your putter with your wedge…
Without risking even one penny…
Unconditional 60-Day
Money-Back Guarantee
I want to make sure you are 100% satisfied with your new Square Strike wedge. That's why I've worked with SS to give you a 60 days, no-questions asked guarantee.
That means — use it all you want for 60 days and if you don't see major short game improvement, Square Strike will give you your money back.
No questions.
No explanation needed.
Nothing — just your money sent right back to your card.
That's how much I (and the Square Strike team) believe in this.
Click the link below and see why I bought this wedge!
Yes, I Want To Eliminate
Chunked Chips
For Good Using
the Square Strike Wedge
To Better Chips and More Fun,

Brixton Albert
Founder, Performance Golf Zone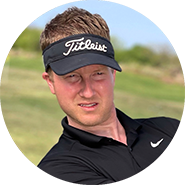 P.S. After I purchased this club, I let my dad use it. He's an 18 handicapper and he loved it. Not only was he rolling it close to the flag…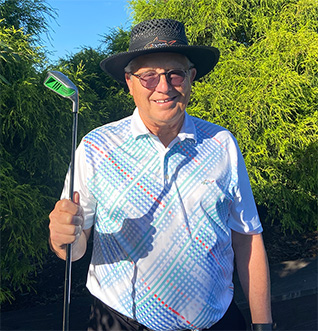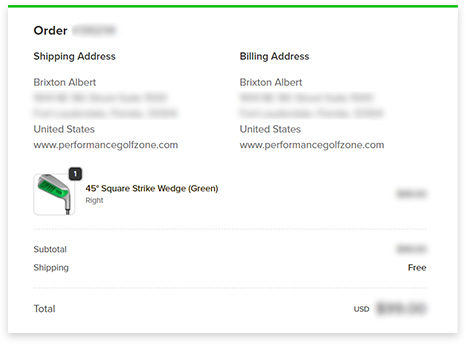 He literally couldn't chunk it!
I even stepped on his ball and asked him to hit a chip… he flushed it.
I now have to buy another wedge because he's a proud owner of the one I purchased.
Happy Father's Day Dad!
P.P.S Here's what some other players are saying about this wedge: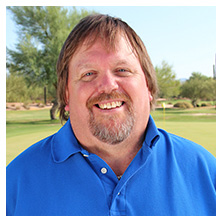 "With my wedge, you have to kind of manipulate it to make the shot. With the Square Strike, you just putt. That's all. For me, the Square Strike wedge was the ultimate if you want to get it close to the pin, or in. It's just way better than using a pitching wedge, a sand wedge. This is the club. This is what you need."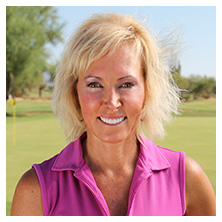 "With my wedge I usually either chunk it or I top it and it goes flying across the green. I'm very inconsistent on my short game with my wedges, and sometimes it's hard for me to decide, 'Am I going to use my pitching wedge? My sand wedge?' For me, the Square Strike is going to be the name of the game. It's going to improve my game immensely."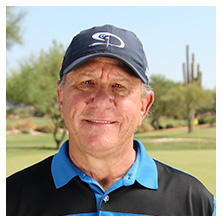 "You cannot hit this club fat. You will never chunk a ball and that's important, especially for the middle handicaps and the higher handicaps. So I think it's a game improvement club, but even for a 7 handicap. This Square Strike Wedge is going to go in my bag, for sure."
Yes, I Want To Shave 5-8
Strokes From My
Scorecard Using My New
Square Strike Wedge
Unconditional 60-day
Money-Back Guarantee