World's Most Prolific Golf Equipment
Engineer & Rocco Mediate Crack
The
Code On The First-Ever
"Automatic Swing Trainer"…

What is it?
It's the ONLY cavity-backed 7-Iron swing trainer designed to help you…
Get instant FEEDBACK on your RELEASE…so you can hit ball-first, hit it straight and hit it far.
Set the Compression "release" Clicker to match your DRIVER swing speed…
Swing the club at FULL speed…
Listen for the CLICK – AT IMPACT.
You will clearly HEAR if you've released the clubhead AT IMPACT (good click), BEFORE impact (bad click) or no click at all (bad).
Hit balls…or DON'T hit balls…it doesn't matter.
Your swing will automatically have more lag the first time you swing the club.
The Pre-Molded Grip automatically gets your clubface square before you even start your swing.
It has a Cavity-Backed 7-Iron Head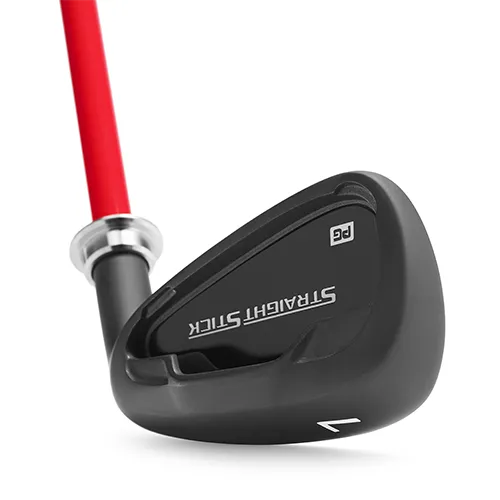 An Easy-Lag 7-Iron Shaft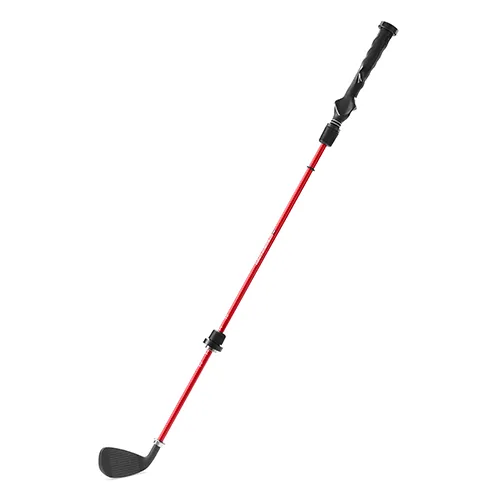 A Pre-Molded Grip (you can adjust it)
"Set-It-And-Forget-It"
Adjustable AccuGrip
What does it do?
It forces you to make compressed ball-first contact:
So if you're struggling with
an early release…
casting your club…
or flipping your wrists…
You either won't hear the click at all…
Or
You won't hear the CLICK AT IMPACT…
And you'll know exactly what you need to do to fix it…
The
"AUDITORY"
Release Feedback Is Key…
So you don't do this…
#1: Lose Clubface Control From Setup To Impact (Casting the club)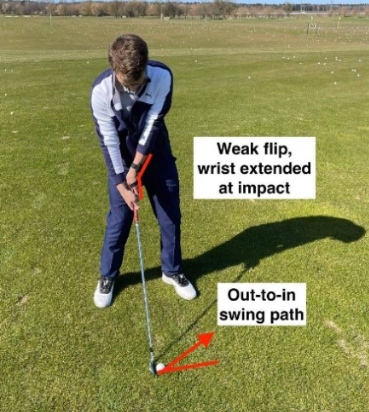 The difference between setup and impact is only a few inches…

And in that small space is where "compression" happens.

But if you can't control the club from setup to impact…

And release it at the right time…

You'll never compress the ball and make flush contact.
#2: Miss The Center Of The Clubface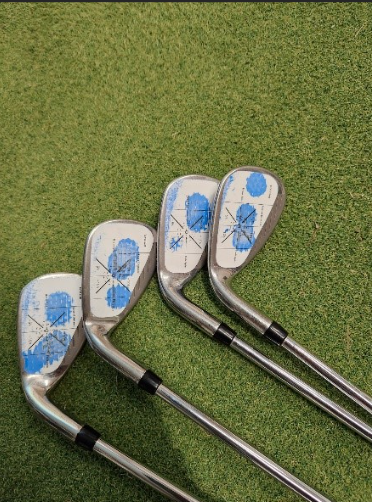 If you're releasing the club TOO EARLY or TOO LATE in the downswing…

It's virtually impossible to hit the center of the face
#3: Leave The Clubface Wide OPEN or CLOSED At Impact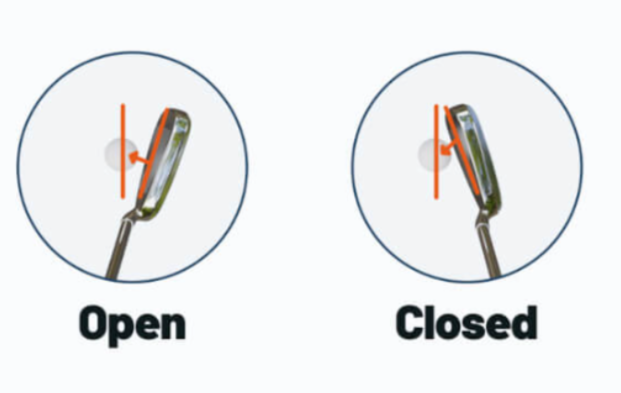 Where you release the club determines whether the clubface is OPEN or CLOSED at impact.

If it's OPEN relative to your path…the ball goes RIGHT.

If it's CLOSED to your path…the ball goes LEFT.
How does it work?
First:
You Hear The Click When You Swing
The magnetic "click" tells you how and when you are releasing the club…
…without having a coach look at your swing…
…wihtout having to film it (which adds artificial pressure, stop/start time and setup inconsistencies)…
or without having to even think about it (no swing thoughts)
You simply LISTEN for the click.
When the click happens at ball contact, you know your release is making COMPRESSED CONTACT and CENTER CONTACT. Repeat as much as possible so the feels transfer instantly to your on-course clubs.
If the click happens BEFORE or AFTER the ball, you are MISSING the center of the clubface and will not achieve compressed ball contact. Tweak and re-try.
If you don't hear a click at all, you need to lower the speed setting and make a full swing start to finish to achieve proper acceleration and lag.
Fixing your swing happens rapidly with the Straight Stick:
No need to stop and watch your own swing videos…
No need to overthink details…
No need to mess up your swing adapting to some odd swing aid.
No need to wait for a qualified coach to give you feedback.
Just swing it like your own 7-iron and listen for the click.
Second:
The Pre-Molded Grip You Can Adjust
This ensures your hands are exactly where they need to be for center contact so you can truly focus on your release.

It's like eliminating a critical factor in your swing.

If all you did was use the straight stick for its grip, that alone will get you a quick win.
Why does this help?
YOUR RELEASE Either Makes Or Breaks The Accuracy Of Your Golf Shots
So to hit STRAIGHT shots… you need a perfect release!
(and you want to make sure a poor grip isn't a factor in getting to one)
Fixing This Is The Key To BOTH Contact And Accuracy
See, you could be perfectly on plane in the takeaway and the downswing…
But if you don't have a controlled clubface to compress the ball at impact…
You'll never hit your target.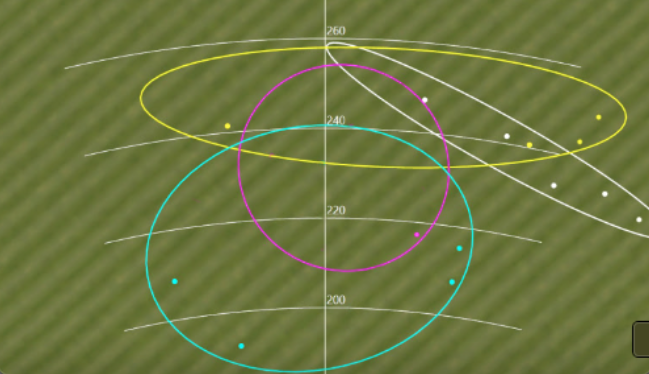 You could use every trick in the book to build Ben Hogan-like lag into your swing but…
If You Don't Have Control
Your Clubface At Impact –
You'll Never Hit It On Target
You can even learn to swing on the most anti-slice inside-out path…
But if you have an open clubface relative to that path at impact…
You'll never compress the ball and you'll ALWAYS hit a slice.
Are you starting to see why controlling your clubface from setup to impact is…
The ONLY Thing You Should Be
Focusing On If You Want To
Make Compressed Contact…
A controlled clubface in the takeaway…
An on-plane swing…
And the proper release to create shaft lean (or compression) at impact…
The Straight Stick Is Designed to Fix the Release For You
The First-Ever Automatic Swing
Trainer That Gives You The 3
Core Swing Mechanics
All without you even thinking about it.
So you…
HAVE and FEEL the perfect grip to control your clubface from setup to impact…
Start swinging on plane…
Dropping the club into the slot…
And releasing the clubface into the most compressed impact position for flush contact…
Do you know what it means when you have your clubface working FOR you from setup to impact, rather than against you?
Simple: you'll have…
No Choice But To Make
Perfectly Compressed Contact
With Automatic Accuracy
AND hit your target every single time.
Can't I Just Do It On My Own?
Do you take video of your swing?
Do you watch it after every single swing?
Probably not.
Who has time to hit record…
get into position…
swing…
leave position…
pick up the phone…
stop it…
review it…
think about it…
reposition the phone…
and get back into position…
For every…single…swing?
No one does.
And even if you do…
✘
You don't KNOW if you're doing it right…
✘
Most average video doesn't allow you to see or hear exactly where you are releasing it at most top swing speeds…
✘
And the videos don't tell you what to correct…
And that's why the hamster wheel of online instruction and in-person lessons keeps spinning… 

Leaving you with an overwhelming amount of swing thoughts and mechanical adjustments that NEVER lead to the contact and accuracy you want. 

Why is that? Well…
99 out of 100 Amateurs Don't Have The Time (Or Patience) To Get Proper Feedback
Because that requires expensive lessons…

MORE TIME on the range… you DON'T HAVE to get results.

Plus, even if you DO get coaching feedback…

At best, you can only work on ONE core mechanic at a time…

So going through this process, you don't yet have clubface control or improved accuracy…

And that makes it impossible to enjoy the game.

And look, I get it…
I HAD TO MASTER MY RELEASE THE HARD WAY
Hi, I'm Rocco Mediate, 6-Time
PGA Tour Winner, 4-Time
Champions Tour Winner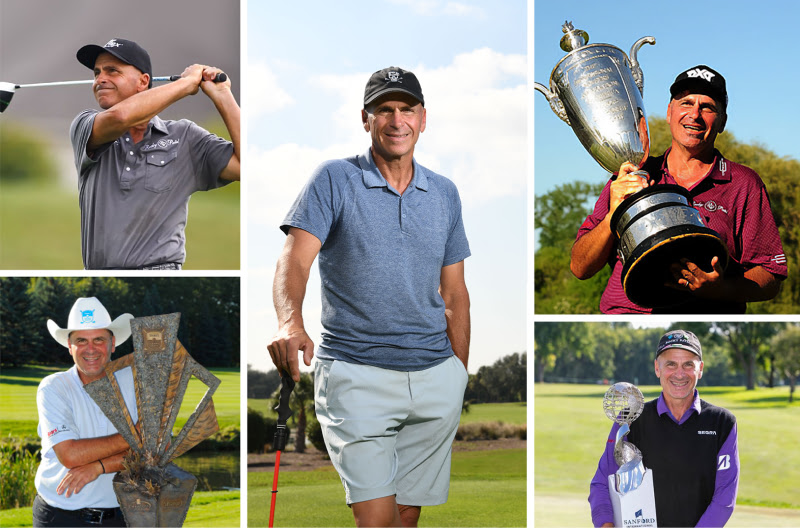 Spending years frustrated at the results…

Hoping that I would see a breakthrough…

And I had the time… the sponsorships… and circumstances to focus 100% on getting my core swing mechanics to work together… and stay that way.

But now… today… as I get older…

That's NOT possible… and I have a pretty strong foundation.

So You Can Imagine How Much Harder It Is For Amateurs Like You.
How can I be sure it will work for me?
Because amateurs just like you are…
Already Using The Straight
Stick To Make
Compressed
Contact And Pinpoint Accuracy
Watch What Happens When He
Started
Hearing The Click With
The Straight Stick…
He started flushing it…
Shot… after shot… after shot…
It Really Is That Simple…
Pick your settings…
Take a few swings…
And start hitting pure golf shots.
Just like this student:
He went from completely flipping his wrists…
Causing mis-hit fades and pulls…
To hitting dead-center and almost perfectly straight shots.
I don't think he even realizes how much his contact and accuracy just improved…
And the best part is…
The Straight Stick Will Do The Same For YOU.
No Guesswork, No
Wondering What To Do
Next…
Just Instant Results.
The Engineer Has Over 40 Years Of "Inside-The-Ropes" Tour Experience
He Developed Clubs For Lee Trevino, Nick Faldo, Arnie Palmer And Jack Nicklaus
After creating more than two dozen patents and over 500 clubhead designs for top companies, he's simply the most prolific golf equipment engineer in the world today.
I figured, if anyone could crack the code on getting these core swing mechanics working together…
Jeff Sheets was the guy.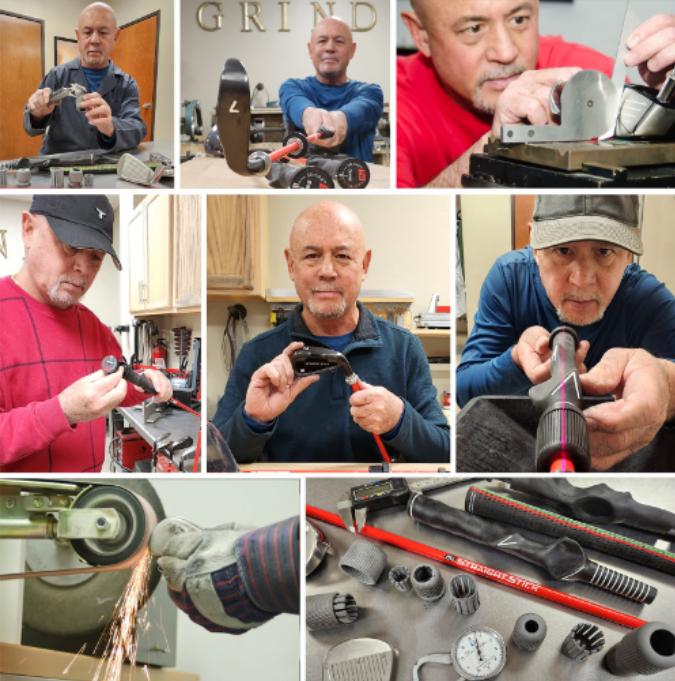 Does it come with anything else when I get it here?
The Straight Stick Quickstart Video Series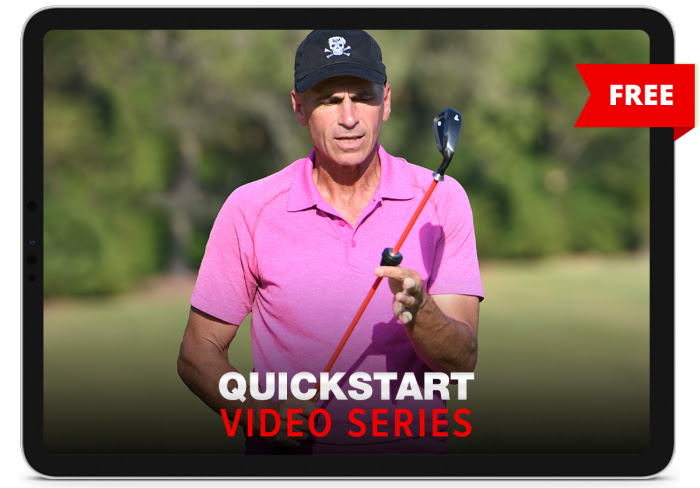 Which shows you how to start using this automatic swing trainer — in a matter of minutes.
As you'll soon see…
Even though the Straight Stick arrives with the Adjustable AccuGrip set on strong — and Compression Clicker set to 90 miles per hour swing speed…
It's insanely easy to adjust it up or down, depending on where you're at.
Bonus #1: Straight Stick
Secrets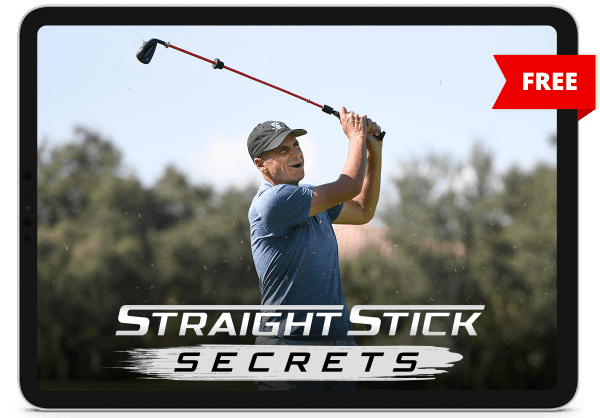 See, after working with a number of pros and amateurs behind-the-scenes during our
testing of the Straight Stick…
I've perfected a series of exclusive warmups, practice, and home-use routines that I've
found work best…
And I share these with you, so you can be sure you'll get the same incredible results
with the Straight Stick you've seen here today.
In this video series, you'll discover:
How to use the Straight Stick before your next round for the most flush, accurate contact of your life…
When and how to use it before range practice so you continue to improve…
And even the exact routines I personally use with the Straight Stick — at
home — to keep my own contact and accuracy dialed, year-round…
And that's not all, you'll also get…
Bonus #2: The Easy
Accuracy Video Training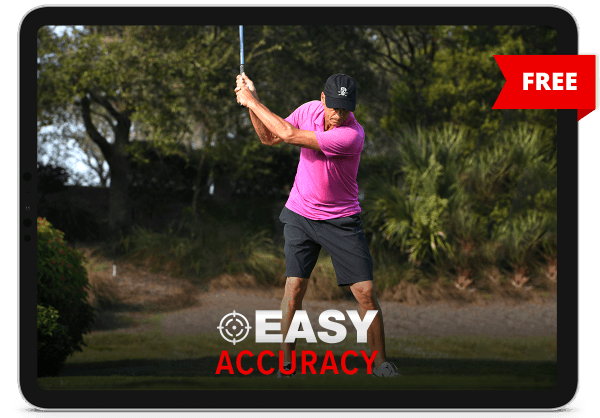 Once the Straight Stick has you making perfect compressed contact with automatic accuracy…
You'll become ADDICTED to this feeling of flushing the ball, dead-on target…
And you'll want even more.
Because that's what separates golfers who shoot in the 90s or 100s from those who
shoot in the 80s or even 70s…
Plus, if you've ever made progress on the range, only to struggle when you step onto
the course, you know how awful that feels…
That's why I'm giving you the very…
Best Contact And Accuracy Drills For More Consistency And Unrivaled Confidence
These are drills you can use before playing or warming up to ensure you play your
best each time…
But more than that, they're designed to build upon the powerful foundation of
contact and accuracy the Straight Stick gives you…
… and take those skills to the next level, helping you immediately shoot lower scores.
This entire step-by-step video course is everything you need to become a world-class
ball striker and better golfer, virtually overnight.
And I'm not done yet. You're also getting…
Bonus #3: The Straight
Stick LIVESTREAM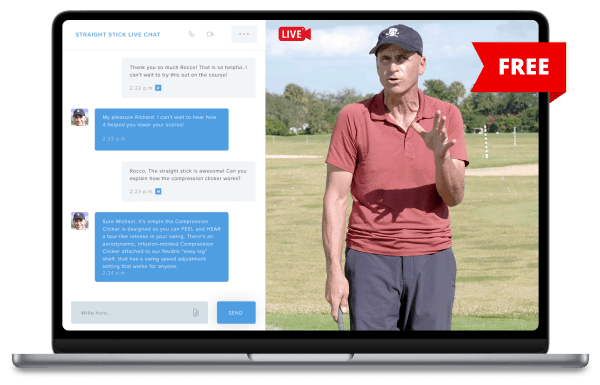 Most golf products come with little or no instruction, but I remember how valuable it was for my own contact and accuracy to have LIVE hands-on feedback and answers from a top instructor…
So that's exactly what you're getting here.
On the Straight Stick LIVESTREAM, that you can watch over your computer, smart phone, or iPad… you'll SEE me demonstrate key drills and applications of this swing trainer…
You'll get real-time feedback on how YOU can better use or adjust your practice routine…
And you'll be able to ask me anything — literally ANYTHING — about getting your own contact and accuracy dialed in.
Plus, if you can't make it LIVE… you'll have access to the replay for life.
When I coach amateurs these days, it's very selective and often very expensive — but I'm making this coaching available for free to new Straight Stick owners like you… who deserve to play their very best golf.