As Featured In:



"23 Major Victories Don't Lie…"

David Leadbetter – Coach To Seven
Former World #1s – Reveals His Secret…
FIRST MOVE

FIX
Click Play On The Video Above To Dial
In The Most Important Move To
Make
Flush Contact (And See Why Even
Tiger Is Teaching It To His Son!)
ORDER TODAY:
LIMITED STOCK AVAILABLE
Here's Everything You're
Getting When You
Order
StraightAway Today
Including 5 FREE bonuses worth $888
PLUS Our No-Risk 365-Day, 100%
Money Back Guarantee
And
WE PAY SHIPPING!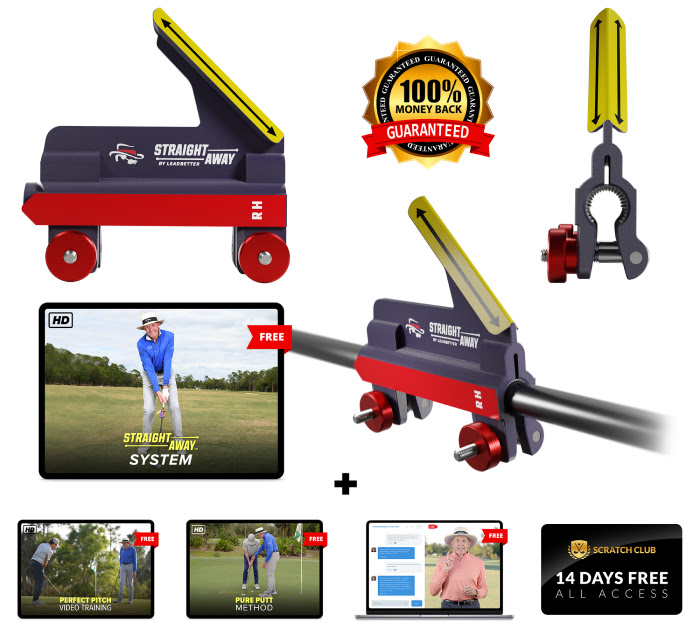 The StraightAway
This is the world's FIRST-EVER simple swing technology… that's proven to give you no choice but to start — and finish — your swing on-track. So you can make consistently flush contact — and stick greens on command.
Unlike most swing trainers that simply address the EFFECTS of a poor takeaway… The StraightAway instantly fixes the ROOT CAUSE of your off-track first move… and ejects fat shots, thin shots, and overall inconsistencies from your game… in just a handful of practice swings each week.
Here's why the StraightAway is the #1 swing aid for amateur golfers: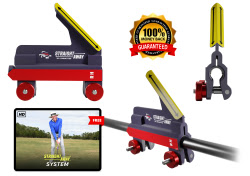 Instant-feedback StraightAway Tracks give you a visual aid to fix your first move (most important move in your golf swing)
Twist-Lock SecureClip allows you to easily attach the StraightAway on ANY club
Portable so you can practice literally anywhere (even at home while you're watching Golf Channel!)
Versatile so you can work on your takeaway consistency with different clubs
Tested and proven to give you the ONE and ONLY move you should steal from the pros — the Tour Takeaway
Plus, the StraightAway works on both right and left-handed clubs.
Just clip it… and rip it!
PRICE: $99.00 ONLY $79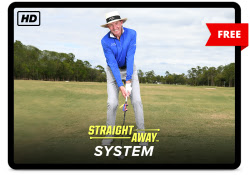 The StraightAway System
This in-depth exclusive video training is designed to accelerate your results with the StraightAway.
Inside, David will guide you through proven warm-up and practice routines that you can do at home, on the range, or before your next round — so you transform your first move and make the purest contact of your life.
The StraightAway System is meant to be used WITH the StraightAway Swing Technology so you eliminate any chance of ever making a first move mistake again. These are David's hard-earned secrets, discovered over his 50-year career.
Including:
5 ways to use your StraightAway at home as soon as it arrives on your doorstep
StraightAway contact drills that only players who have this system will have access to
The 12-inch "first move fix" that will save you decades of struggles working on your swing
A distance hack that you can only get using your StraightAway (meaning your friends won't have this trick!)
PRICE: $197.00 FREE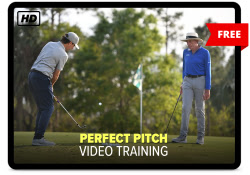 The Perfect Pitch Video Training
This video training walks you through the exact routines David gave ALL seven former world #1s before they went on to dominate Major Championships.
So if you can't get your ball close to the hole from around the green right now and you always struggle with long, knee-knocking par putts, then the Perfect Pitch Training Program will change that for you — FAST.
This training walks you through a series of exclusive pitching and chipping accelerators AND is guaranteed to get you dialed from inside 50 yards.
PRICE: $197.00 FREE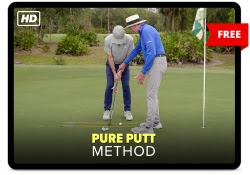 The Pure Putt Method
This training gives you the fastest way to dominate with your putter… WITHOUT spending hours on the practice green.
Inside the Pure Putt Method you'll discover the ONE simple move that automatically controls your hands, arms, and shoulders to roll pure, accurate putts.
This move eliminates your biggest putting mistakes, including bad tempo… an inconsistent stroke… and erratic flow with the flat stick.
This means you'll be ejecting 3-putts and shaving even more strokes from your scorecard, starting on your very next round.
PRICE: $97.00 FREE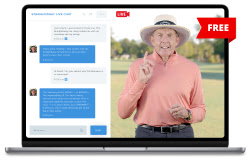 Leadbetter LIVESTREAM
This is your chance to learn directly from David himself — the coach to seven former world number #1s — AND get feedback as he gives a LIVE hands-on lesson and demonstrates all the ways YOU can use the StraightAway to transform your first move, make pure contact, and double your greens in regulation.
And if you have any questions about the StraightAway, you'll be able to get them answered LIVE… so that you have everything you need to take your game to the next level.
PLUS, you'll have lifetime access to the replay.
PRICE: $300.00 FREE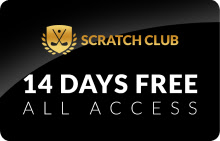 Scratch Club
Get a 14-Day Free Pass to "The Netflix of Golf" — with the world's leading collection of advanced tools and training from some of the greatest golf coaches in the world.
All so you can drop 5 strokes from your handicap in the first month alone. (14 days FREE, then $29/month. Cancel anytime)
PRICE: $97.00 FREE
TOTAL VALUE: $987

YOUR PRICE: ONLY $79
(Save $908.00 today with this limited
time special offer)

BONUSES AVAILABLE NOW
FOR INSTANT ONLINE ACCESS

365-Day 100%
Money-Back Guarantee

100% Protected
100% Secured

If at any time within the next 365 days you decide you're not fully satisfied, simply send us an email at
support@performancegolf.com
and you'll receive a 100% full and prompt refund, no questions asked.
"It made it so easy to quit flipping my wrists. I must have hit 8 to 10 shots straight away at the target with a little baby draw. I'm going to use this before every single round."
Corey A., 19 Handicap