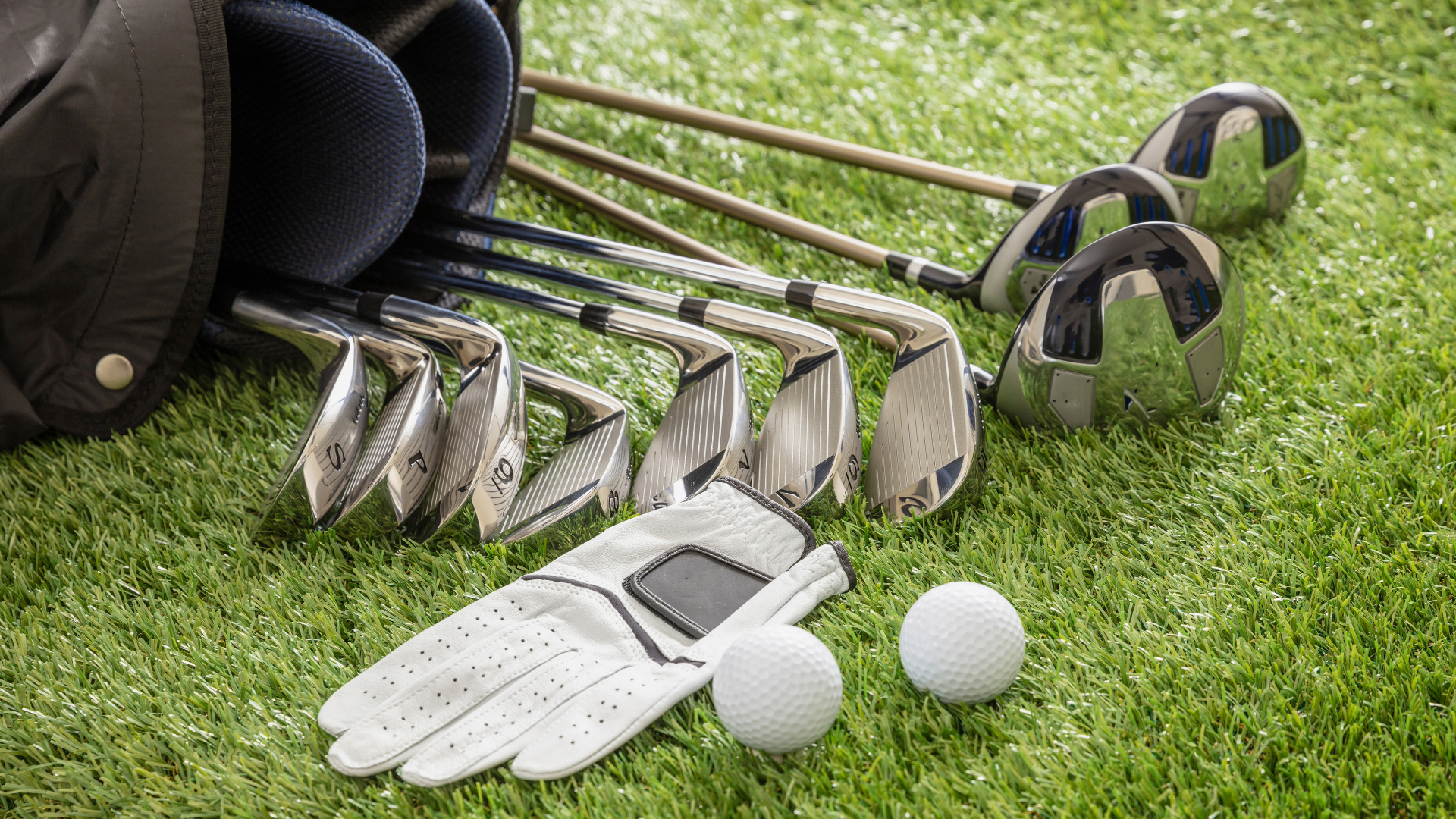 If you're just starting your golf journey, a beginner golf club set is a great way to save time and money.
As you'll soon discover, there's a lot to learn in golf; from the rules, etiquette, the full swing, short game shots, and everything in between. Not to mention the endless choices when it comes to equipment.
Luckily, it's easier than ever to start swinging with complete sets, ready with everything you need as a beginner golfer. Keep reading to learn what clubs are included, how to compare sets, and the best training aids to build a consistent golf swing.
Beginner's Golf Club Sets: Which Clubs You Actually Need
New golfers have a choice – buy a complete set or piece together a set of golf clubs individually. To help you get started swinging and hopefully hit that "one shot that keeps you coming back" we suggest buying a full set to begin with.
Here's why…
A full set comes with 10–11 clubs and a bag so you can start playing golf fast.
Full sets have the most essential clubs that a new golfer needs with the right shafts.
You can always add or upgrade certain clubs to your set as you advance in your golf journey.
Here's what you need to look for in a set of beginner golf clubs.
If there's one club you want to "love" in your set, it's the putter.
Driver
The first club every golfer needs – regardless of skill level – is a driver. No matter what brand you choose, every set has a driver as it's one of the most important clubs in golf.
A driver is used to hit tee shots on par 4s and par 5s. When you learn how to hit a driver with consistency it can transform your game.
Most drivers in complete sets are very forgiving and made for beginners. They tend to have a 460 cc head (the maximum size allowed by the rules of golf), a lightweight shaft, and 10–12 degrees of loft.
This is because the larger the head, the more forgiving it is on off-center hits (which are quite common if you're just getting started). A lightweight shaft makes it easier to swing with speed and max out distance, while plenty of loft makes it easier to launch the golf ball high and improves carry distance.
Most drivers in complete sets have fixed settings, meaning you can't change the loft or lie. But there are a few drivers in sets that do have adjustability settings, if you know to look for it. If your driver isn't adjustable, this is always something you can upgrade in the future with a new club.
If you think you'd benefit from a little extra help as a beginner, look no further than our all-new SF1, the world's first slice fix driver! We designed this state-of-the-art driver for YOU, where ever feature is designed to fix your slice and allow you to launch higher, fly longer and roll out farther. Learn more about our newest driver here.
Fairway Woods and Hybrid
The second component to complete sets are fairway woods and hybrids.
Every set will typically come with at least one fairway wood, usually a 3 or 5-wood. These clubs are great alternatives to hitting driver on narrow holes and used from the fairway as well.
A newer addition to complete sets of golf clubs are hybrids. As the name suggests these clubs are part fairway wood, part iron and a great choice for all types of players.
Hybrids usually replace long irons (3-5 irons) which are challenging even for intermediate to advanced golfers. They have a shorter shaft and a smaller club head than a fairway wood which makes them more versatile to hit from different lies.
Most sets come with at least one fairway wood and one hybrid. But some sets might offer two fairway woods and one hybrid or one fairway wood and two hybrids.
Similarly to a driver, you can always upgrade these clubs or add another hybrid or fairway wood to complete your set.
While most golf sets come with a 3 or 5-wood, newer golfers might struggle to hit them from the fairway. This is due to the lower loft and longer shaft than irons or hybrids.
We developed a brand-new ultra forgiving alternative in our EZ3 Fairway Wood. It's made for the everyday golfer who doesn't have endless time to pound range balls and needs a "fairway finder" off the tee.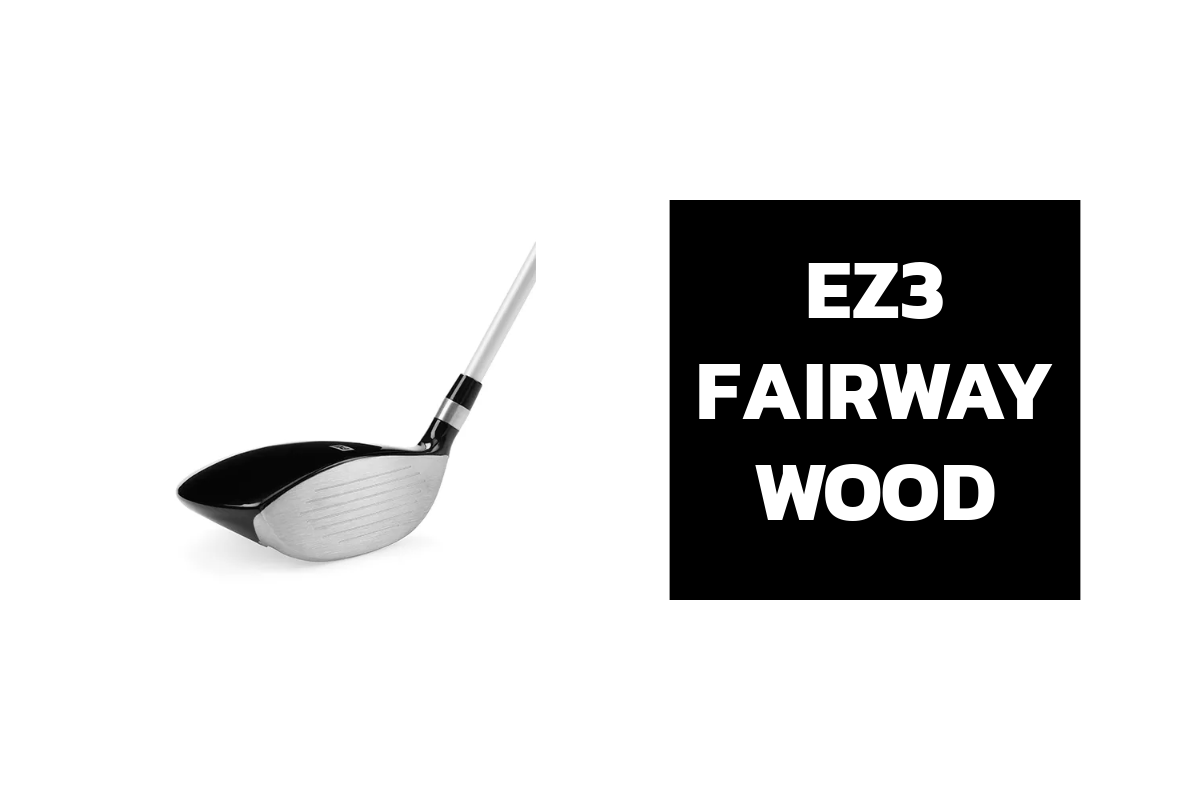 This is the world's first 3 wood that is powered with Easy Strike Technology. The cutting edge design can help unlock more distance than ever before in a 3-wood and has the versatility of a hybrid. It's perfect for newer golfers who need help with distance, control, and high launch.
The Pure Strike leading edge and Precision launch loft also make this club easy to hit high and straight. Whether you're hitting it from the tee box, from the fairway or even in the rough, this club is incredibly forgiving.
This ultra-forgiving, easy to hit 3-wood is available in five shaft flex options and available for both right and left-handed golfers. Click here to learn more now.
Iron Set
Next up in a complete golf set are the irons which are used primarily for approach shots into the green. Most beginner golf sets come with 5-9 iron or 6-9 iron.
Regardless of the irons included, all come with the same weight and flex shaft. In the following section we'll break down how to decide which shaft is right for your swing.
Wedges
Another critical piece of equipment in complete sets are wedges. These clubs are shorter than irons and used for full shots or around the green.
Most sets come with at least one wedge – a pitching wedge. However, more and more sets also come with a sand wedge too. This gives players the most versatility around the green to hit all types of shots.
As you gain more experience it's also a good idea to buy a gap wedge. As the name suggests, this club fits the "gap" between your pitching wedge and sand wedge.
Advanced golfers might also add a fourth wedge known as a lob wedge. This club has even more loft than a sand wedge (typically 58–64 degrees) and great for shots where you don't have much green to work with.
Putter
The last club that always comes with a complete set is a putter.
This club is used on the greens and from the fringe for short shots. If there's one club you want to "love" in your set, it's the putter since it's used on every hole.
There are two main types of putters; blade putters and mallet putters. Blade putters are smaller while mallet putters are larger, typically heavier, and generally more forgiving.
When choosing a set, make sure to compare different putters to find one that gives you a lot of confidence. If you love a set but don't like the putter, remember that you can easily swap this club out for a flat stick that suits you better.
What to Consider when Purchasing Golf Club Sets
When choosing the right set of golf clubs there are a few things to consider beside the clubs themselves.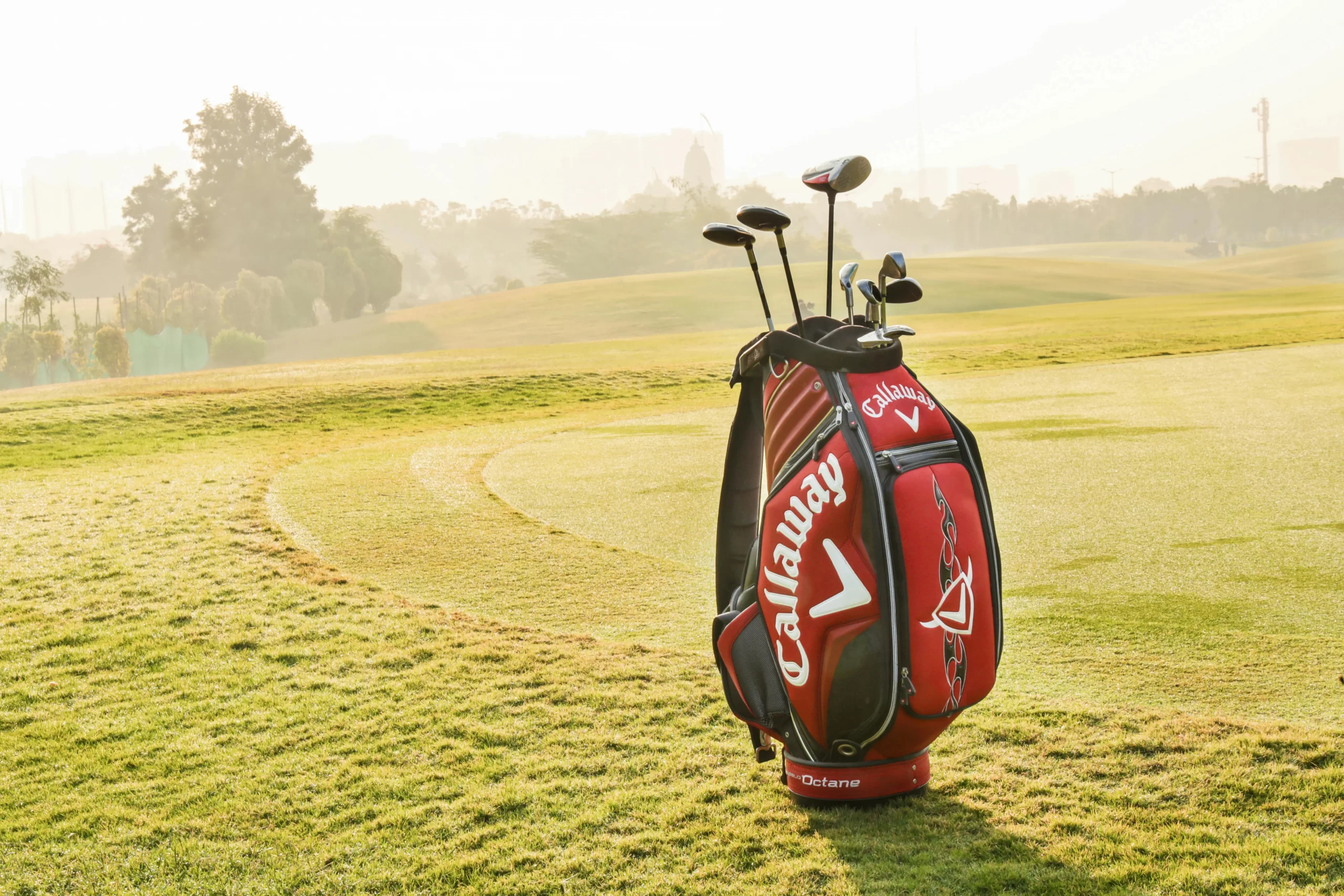 Golf Bag
Besides 8-11 golf clubs, the majority of complete sets do come with a golf bag as well. This is another reason we suggest new players buying a full set, as golf bags can get quite expensive.
There are two types of bags; cart bags and stand bags. Cart bags are much larger than stand bags but also provide more protection and storage.
The other type of bags are known as stand bags (or carry bags). These bags are smaller and easier to carry or use with a push cart during the round.
Stand bags are also more convenient for practice as the bag will stand on its own. The only downside is that there isn't as much storage space as a cart bag.
Golf Shafts
Most new golfers focus on the golf clubs themselves but the shafts also play a pivotal role in distance and accuracy. When shopping for a complete golf set you'll want to first consider graphite vs. steel shafts.
Graphite shafts are lighter and generally better for newer golfers or players with slower swing speeds. The lighter material makes it easier to swing each club faster to improve speed and hit each club longer distances. All drivers and fairway woods come with graphite shafts (regardless of brand) but iron shafts are either graphite or steel.
Shafts – both graphite and steel – also have different flexes to fit certain types of players. For men the most common flexes in complete sets are senior, regular, and stiff flex. While PGA Tour and elite amateurs tend to play stiff, extra-stiff, and even Tour extra-stiff.
Lastly, don't forget to consider the weight of shafts too. Steel shafts are much heavier than graphite and great for more consistent golfers with faster swings.
It's common for wedges and irons to have heavier shafts than hybrids or woods. If you're comparing sets make sure to research the shaft profile and launch profile to find one that is right for your swing.
Length of Clubs Matter
Another aspect to consider when buying a complete set of clubs is the length. Most sets are standard length but there are some out there that have different length options.
In this example the standard set is made for players between 5'5" and 6'1". The tall size has one inch longer shafts which are made for players between 6'1" and 6′ 5."
As you progress in your golf career you can also do a custom fitting session to learn if you need shorter or longer shafts.
Build Your Own Set vs. Complete Set
You might be thinking, should I buy a complete set or piece together on my own? It's a good question that a lot of new golfers contemplate.
If you're new to the game and just learning how to swing, etiquette, rules, etc. it's best to start with a complete set. This will make it easier to get started swinging and understanding different parts of the game.
As you progress and develop a consistent swing then you can begin to experiment and test different golf clubs. Don't let the massive choice of clubs and shafts overwhelm you and not start playing this amazing game! Plus, there's tons of options out there to improve your golf game: let's jump into some of those now.
Training Aids to Improve Your Game
Having the right clubs is half the battle in golf but you also need to groove a consistent swing. If you're a new golfer it's important to get started with the proper fundamentals before bad habits set in.
Check out these training aids that can help you develop proper golf swing fundamentals fast.
The Launch Deck
There's one shot that every golfer must overcome – the dreaded slice. It's a frustrating shot that plagues so many golfers as it kills distance and accuracy off the tee… which makes scoring very difficult.
Luckily, Tiger Woods' former coach and Performance Golf pro Hank Haney created a one of a kind swing trainer to fix your slice for good. The Launch Deck is a one of a kind swing trainer that provides immediate feedback with every swing.
Not only will the Launch Deck help improve your swing path, it will also increase your angle of attack. When paired together you'll groove an inside to outside swing with an upward angle of attack for longer, straighter drives.
Unlike other similar devices, the Launch Deck is extremely versatile and helps with slices or hooks. All you need to do is change the swing gates to your desired path/ball flight and swing through the gates. If you make it through the gates and over the Launch hurdle you'll make a powerful move at the golf ball.
This training aid works with a driver or any club in the bag too. Plus, you can hit real golf balls with it on the driving range or simulator for immediate feedback. It also comes with 14-day access to Scratch Club and exclusive extras to improve various aspects of your game.
>>Learn more about the Launch Deck now.
The Straight Stick
One of the most important fundamentals in golf is learning to compress the ball. To help golfers understand this feeling we created the Straight Stick, which is endorsed by 10-time Tour winner Rocco Mediate.
This new training aid makes it easy to feel a well-timed release, increase lag, and improve clubface control. Thanks to our patented Compressions Clicker technology and Adjustable AccuGrip, it's unlike any other swing trainer and provides instant feedback. If you suffer from casing, flipping, or have grip issues, this training aid can help.
It's simple to use too – pick the speed settings and grip alignment to start hitting balls. If the swing trainer clicks at impact, you'll get instant feedback that you had the right mechanics and can watch the ball fly straight.
This amazing new swing trainer is available in a 7-iron or driver for both right and left-handed golfers. You'll also get some awesome extras to improve your game even more including:
Straight Stick secrets.
Trial access to scratch club.
Training with Rocco Mediate for improved accuracy.
Straight Stick livestream coaching session with Rocco.
>>Learn more about Straight Stick now.
Golf Club Set Questions from New Golfers
How do I choose golf clubs for beginners?
When choosing a complete set you'll want to consider how many clubs are included, shaft material/flex, and the type of bag.
Most sets include 8-11 golf clubs but some might get closer to the 14-club limit. You'll also want to consider a graphite vs. steel shaft as the shafts are just as important as the clubs themselves.
Finally, don't forget to buy a set that includes a bag and the right type (cart vs. stand) based on if you plan to ride in a cart or walk more often.
How many golf clubs are allowed?
The USGA allows every player to have up to 14 clubs during a round of golf. You can use fewer than 14 clubs – like most beginner sets – but get penalized if you have 15 or more in your bag.
Should beginners use stiff or regular golf clubs?
Choosing the right flex ultimately depends on a player's swing speed; faster swing speeds require shafts with more flex.
Golfers who are just getting started typically have slower swings and thus, need lighter flex shafts. This is why beginners will benefit more from regular flex shafts than stiff shafts.
As a player gains speed, it's important to change to a stiffer shaft and possibly one that is heavier.
How many clubs do you need to start playing golf?
The rules of golf allow players to carry up to 14 clubs but most only need 10-11 to get started. If you're ready to play golf regularly, a beginner set is a great way to get started. A complete set makes it easy to purchase everything you need without getting overwhelmed with endless equipment options.
Get Your Clubs and Get Out On the Green
If you grow to love the game and keep playing consistently, you can always swap out certain clubs, try different shafts, or buy clubs individually. Since most sets only come with 8–11 clubs you can always add a few extras until you reach the 14 allowed by the USGA.
While equipment is a big part of the game, don't forget to groove a consistent swing with the training aids mentioned above. Lastly, don't forget to check out Scratch Club which is an all access pass to master the six key areas of the game from top instructors.