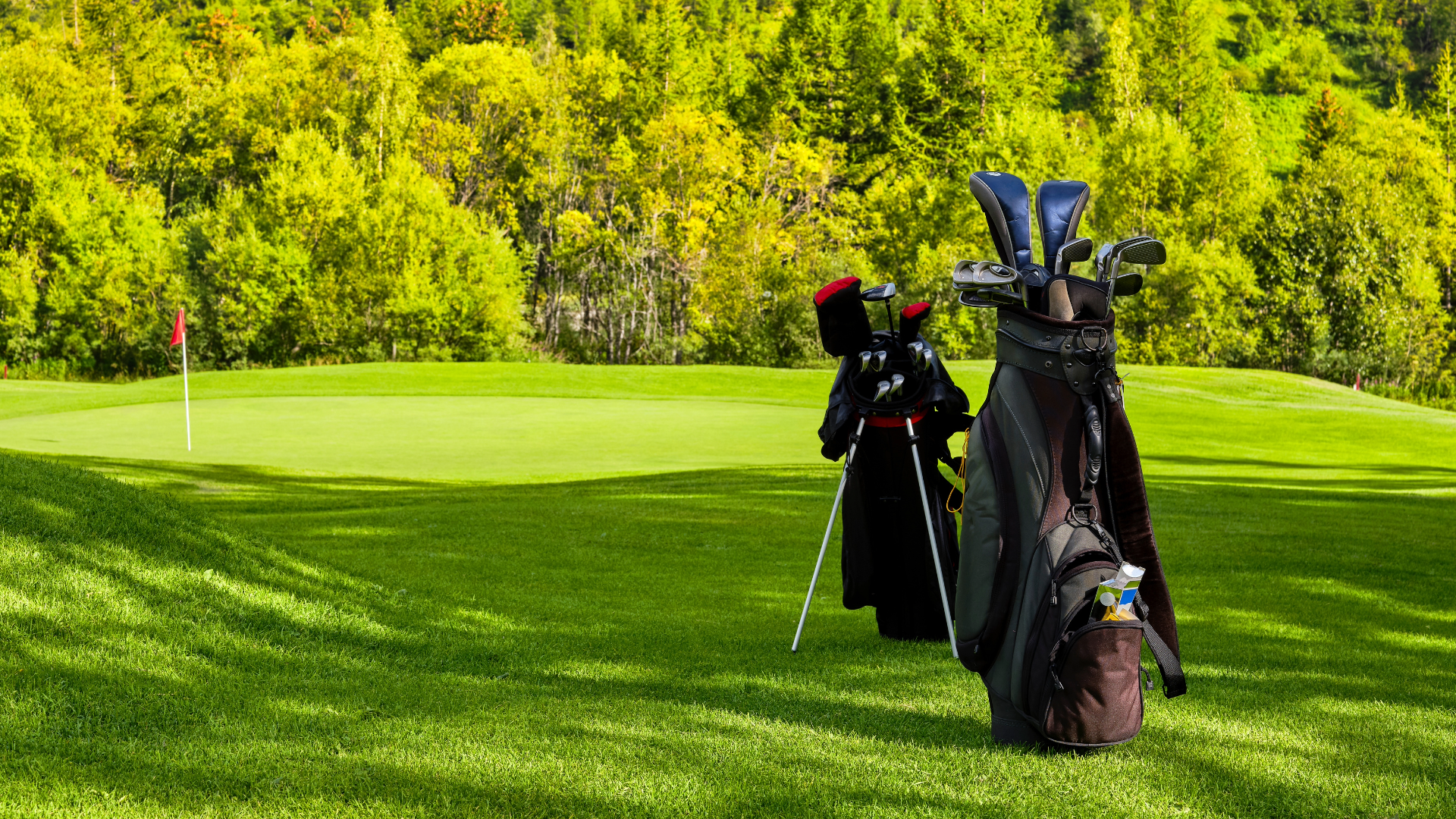 As a new golfer, there is quite a bit to learn about equipment, gear, and even the rules of golf. Prepping your bag for the first few trips out to the golf course can feel a bit like preparing for a long hike or a week long vacation!
Let's go over the essentials that a beginner's golf bag needs, some advice on which type of bag is best, the accessories that should fill the bag pockets, and so much more.
If you are a beginner golfer who wants to be prepared for anything that could come up on the golf course, you are in the right place.
What Should Beginner Golfers Have In Their Golf Bag?
Beginner golfers (and all golfers, really) need a mix of three things in their golf bag. You will need your gear/equipment, comfort/personal golf accessories, and training devices. Golf bags are designed to carry all of these things.
Gear/Equipment
Golf clubs
Golf balls
Tees
Ball Marker
Glove
Comfort/Personal Accessories
Towel
Bandaids
Water
Mobile Phone
Sunscreen
Training Devices
Full swing trainer
Path trainer
Putter training
Heading out to the golf course is exciting, and it's the reason you even started playing the sport. However, when you get out to the 7th hole and realize you are missing one of the essentials, it may throw you off.
"Before anything else, preparation is the key to success." – Alexander Graham Bell
We can tell you from experience that sometimes, being a beginner golfer can be exhausting. There is a lot to think about, and it can overwhelm you if not prepared. If you want to ensure you're never caught off guard, these are the clubs, accessories, and training aids you will need.
How Many Clubs Do I Need To Start?
Beginners need anywhere from 7 to 10 golf clubs to start. The USGA rules of golf allow any golfer to have 14 clubs in their bag.
However, we're of the mind that beginners don't NEED all 14 clubs. Why?
Accuracy and distance.
Beginner golfers do not hit the center of the clubface as often as experienced golfers. Therefore, you will often find that your 6, 7, and 8 iron all go the same distance. You may also notice that you hit your 5 wood as far as your driver.
This is all completely normal and part of learning the game. As you become a better player, you will learn to strike the center of the face. When this happens, the ball will travel further, but more importantly, it will travel a consistent distance.
These are the clubs beginner golfers should have to start:
Driver
The driver is the lowest lofted club in the bag (aside from the putter), and it helps you hit the ball a long way from the tee box. A driver is longer than the other golf clubs in your bag, so it is a bit harder to control.
Most beginner golfers have a love/hate relationship with their driver. When they hit it well, the distance is unbeatable. However, hitting a slice or a hook with the driver is quite common.
Even if you struggle with a driver currently, you must learn to hit it to become a great golfer.
Fairway Wood
Fairway woods act as a great alternative to a driver. They are slightly higher lofted, easier to hit, and can offer better results for a newer player.
When choosing a fairway wood, go with something forgiving and high launching, like the EZ3 fairway wood designed specifically for beginner golfers.
Choose a shaft for all of your beginner golf clubs that properly matches the speed of your swing. Faster swing speeds need stiffer shafts. Slower swing speeds need more flexible shafts.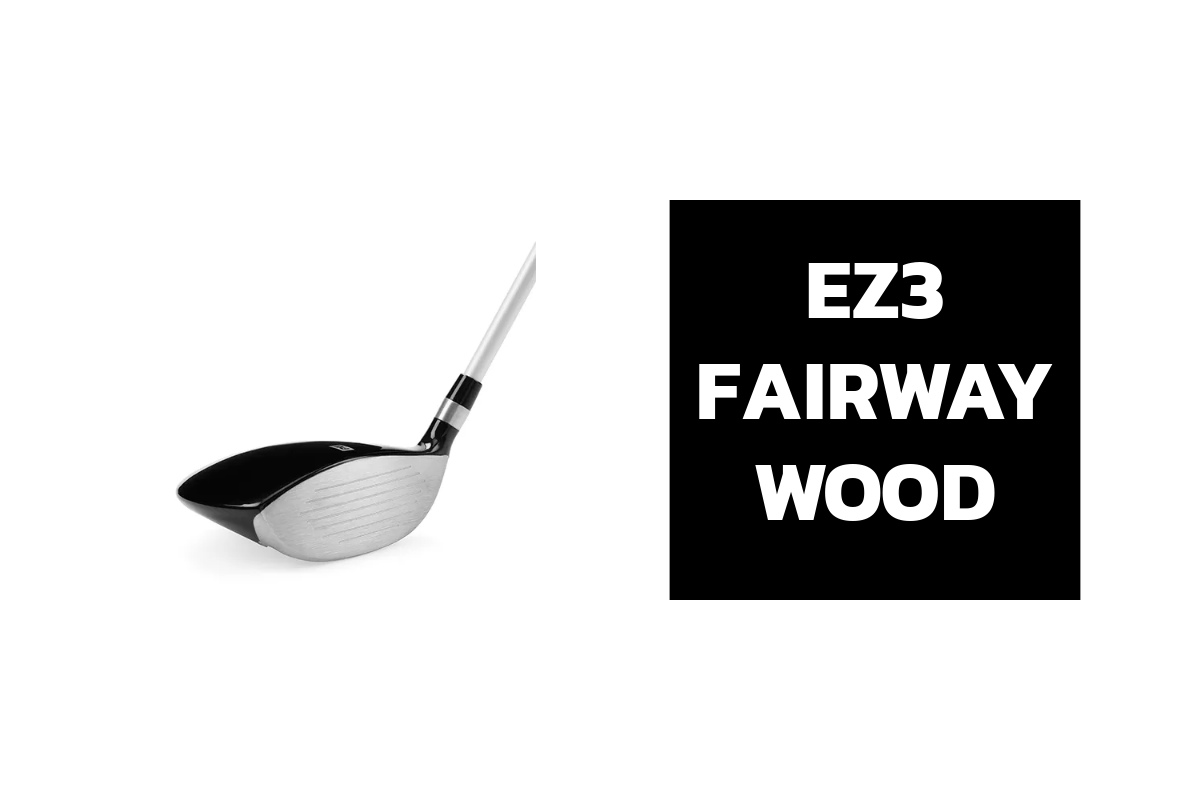 Hybrid
Some beginner golfers will choose either a fairway wood or a hybrid, but we recommend both.
Learning to hit a hybrid club is a tremendous benefit if your tee shot ends up in the rough. Hybrids are a mix between an iron and a fairway wood (hence the term hybrid). Hybrids are incredibly popular because of their forgiveness, but even lower handicap players use them to replace the longer irons.
3-4 Irons
As a beginner golfer, you won't need a full iron set that has 7-8 clubs. Again, the distance gaps you have between each of the clubs won't be enough to justify carrying them.
Instead, choose a 9, 8, 7, and 6 iron.
You may find a beginner set that sells a 9, 7, and 5 iron, and that is acceptable, too.
The short irons are where you will want to focus your attention to learn accuracy and consistency in your game. The hybrid and fairway woods are best for your long game.
Choose irons with a low center of gravity, high launch, and a large sweet spot. If you see the term "oversized" when shopping for beginner irons, you are headed in the right direction.
2 Wedges
All beginner golfers should have at least two wedges in the bag. Eventually, as your game improves, you will end up with 4 wedges.
Carry a pitching wedge and a sand wedge to begin with. The pitching wedge is great for short approach shots and chips with slightly lower lofts.
A sand wedge can get you out of the bunker but also encourages a higher lofted shot when hitting chips and pitches to the greens.
As a beginner, focus a lot of your practice time on these wedges, and the things you learn will translate into the rest of your golf game.
Putter
Finally, every beginner's golf bag needs a putter. The putter is a unique club and the only one that should be used on the putting green.
There are two main types of putters: the mallet and the blade-style putter. For many years, the mallet style putters were said to have offered the most forgiveness to the beginner player.
However, both blade and mallet putters have this technology at this point.
Choose a putter that looks and feels good; that is the most important factor in the beginning stages of the game.
Helpful Beginner Golf Accessories
Now that we have your golf clubs covered let's take a look at all of the accessories that you may need in the golf bag for a day on the course.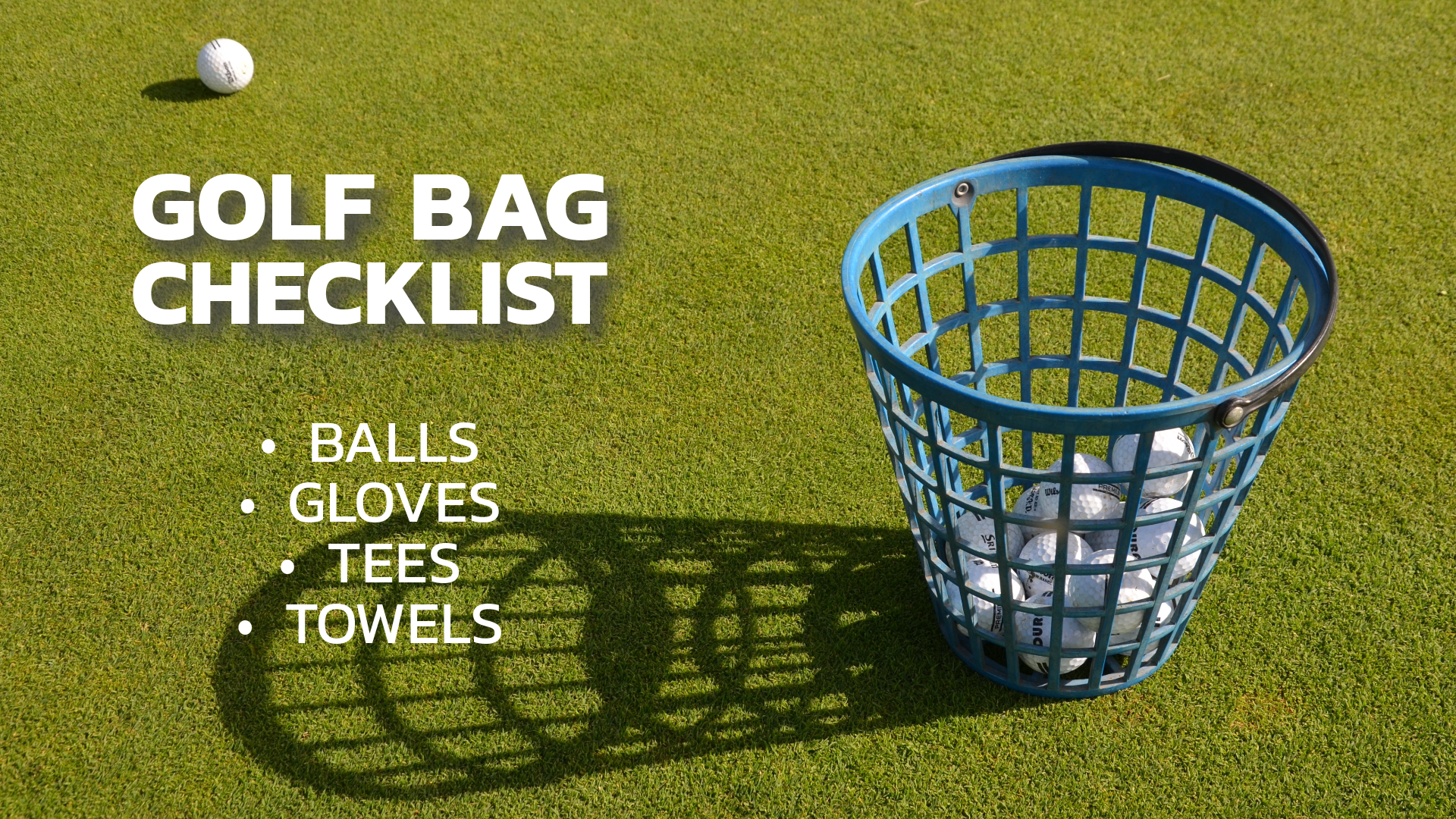 Golf Balls
As a beginner golfer, you will want to keep at least 9 golf balls in your bag.
If you have a bad hole and lose a few of the golf balls, the last thing you want to do is walk off the course. Nine golf balls should be enough to get you through a round of golf, even in the beginning stages.
The problem with carrying too many golf balls is that it will weigh down your bag.
Glove
A golf glove is not a mandatory accessory for golfers. However, as a beginner, there is a high likelihood that you will develop blisters on your hands. These blisters can be painful, making it difficult to continue your practice and development.
Wearing a glove until your grip is perfect is a great solution.
Beginner golfers should wear one glove on their non-dominant hand (i.e., a right-handed golfer wears a glove on the left hand).
Golf Tees
You need tees each time you hit a shot from the tee box on the golf course. Choose something with enough height (2.5 inches or more) to allow your driver to swing through the ball with ease.
Tee up your iron shots (just a little) on the par 3 holes until you become really confident in the turf interaction you have with each club. Having about 10 tees in the bag should be enough, as you can reuse the tees.
Your beginner golf bag will have hundreds of tees before long; golf seems to work like that!
Towel
We always recommend having a towel on or in your golf bag. Regardless of your handicap level, you need to keep your hands and the golf equipment clean throughout a round.
Wipe your clubs off after a hole, wipe the golf ball on the putting green, and wipe your hands after touching the wet grass.
Choose a towel that is large enough to work for the entire round of golf. If bad weather comes your way, this towel becomes even more valuable.
Water/Bandaids/Snacks etc.
Be smart and self-aware about the amount of time it takes to play a round of golf.
For 18 holes, you will be out there for 5 hours. Bringing water, sunscreen, and snacks is a smart decision and you'll enjoy yourself more because of it!
We also recommend having a small first aid kit in your bag should you have an issue with a blister or cut while on the course. Most experienced golfers will tell you that the blister issues will not last long, but they are a problem in the beginning.
Training Aids For Beginner Golf Bags
Finally, you should have a few training aids in your golf bag so that you are prepared for a practice session at any time. Most beginner training aids can fit in your golf bag.
Although you won't use these on the golf course, they are quite helpful on the driving range. Look for beginner training aids like The Straight Stick that allow you to work on clubface control, grip, and even the release simultaneously. As you get more of an understanding as to what it takes to hit a straight shot, something like The Launch Deck will improve your path and consistency.
Not all training aids have to fit in the golf bag. If you are on a mission to move from beginner to mid-handicapper within less than a year, invest in a golf swing training program that you can follow at your leisure.
A few to consider include:
What To Look For In A Beginner Golf Bag?
Now that we have all the gear, accessories, and training equipment needed to fill your beginner golf bag, we need to look at which golf bag is the best for your game. There are three main options for beginners to consider: a cart bag, a carry or stand bag, and a Sunday bag.
Cart Bag
A cart bag is designed specifically for use on a golf cart. The cart bag has a heavier base that will sit in the well of a golf cart. Cart bags have large pockets and plenty of room for 14 golf clubs.
One of the major positives of the cart bag is the dividers on the top of the bag. Dividers will help ensure that clubs are not touching each other, damaging the shafts and grips.
Pockets on the cart bag are designed to keep you organized. A designated golf ball pocket, rangefinder pocket, and even valuables pocket will leave you prepared for anything.
Carry/Stand Bag
The carry or stand bag is designed for golfers who like to walk the course. The stand bag is much lighter than the cart bag and won't typically have as many dividers for golf clubs.
With a stand bag, you can still take a golf cart; the clubs are just not quite as well-protected and cushioned as they are in the cart bag.
Many beginner golfers like the stand bag because of its versatility; if you find out you enjoy walking the course, you will have that ability.
Sunday Bag
A Sunday bag is a very lightweight golf bag designed to carry about 7 golf clubs. For new players who don't have all 14 clubs yet, the Sunday bag is an affordable option that can also be convenient.
At some point, if you are playing a lot of golf and you expand the number of clubs you have in your bag, the full-size golf bag is necessary.
How To Find Affordable Golf Bag Options?
Golf bags have increased in price over the last few years. To find an affordable golf bag, look for models that are a year or two old, not the latest release.
In addition, be smart about the features that you need. The most important role of a golf bag is the ability to protect the golf clubs. Anything over and above this is a matter of personal preference.
You can also add accessories to golf bags later to help them fit your needs.
Top Tips When Shopping For Beginner Golf Bags
Having helped thousands of beginners on their journey to become true golfers, here are some of the top tips for choosing the best beginner golf bags.
Pay attention to the weight of the bag; the 4-7 pound range is usually ideal.
Be careful when choosing golf bag color; as great as those lighter colors look, they are prone to dirt.
Think about golf technology (GPS, phone, rangefinder) and look for bags that have the proper pockets.
Check the bag fabric for durability as well as its ability to withstand difficult weather conditions.
Look to see if the bag comes with a rain cover for your clubs; it's standard on most golf bags from the top manufacturers.
Consider brand names; companies like Sun Mountain, Ping, Titleist, Callaway, TaylorMade, BagBoy, and Vessel are known for great golf bag technology.
How To Organize A Beginner Golf Bag
When organizing your beginner's golf bag, try to utilize all pockets to keep your gear from being a big mess in the bottom of your bag.
Use the golf ball pocket for golf balls, and find a smaller pocket for tees and ball markers. Use Ziploc bags to separate different types of tees.
Save the longer pockets for apparel when the weather conditions require you to bring a jacket or sweater.
As far as the clubs are concerned, place the longest clubs at the top of the bag. Your driver, fairway wood, and hybrid should be towards the top.
All irons go in the middle dividers, and then the wedges and putter go towards the bottom of the bag. If you reverse the order of the clubs, you could end up damaging the graphite shafts in your longer golf clubs.
Recap & Frequently Asked Questions
How many different types of golf clubs should a beginner have?
A beginner should have a driver, fairway wood, hybrid, iron, wedge, and putter. Even if there are just one or two irons in the bag, the key is to learn how to hit all types of golf clubs.
What clubs should be in a beginner set?
Beginners should have high lofted, forgiving golf clubs. Look for beginner golf sets that have a variety of lofts, hybrids (instead of long irons), and irons that have a wider sole to improve turf interaction.
What else do I need other than clubs in my golf bag?
Your golf bag is a great place to keep golf balls, tees, ball markers, sunscreen, water, training aids, and even a first aid kit to use on the golf course.
Prepping your beginner golf bag so that it is ready for the golf course will allow you to focus on your game. Keep an organized bag, clean the bag periodically, and invest in something that does a really good job of protecting your golf clubs.