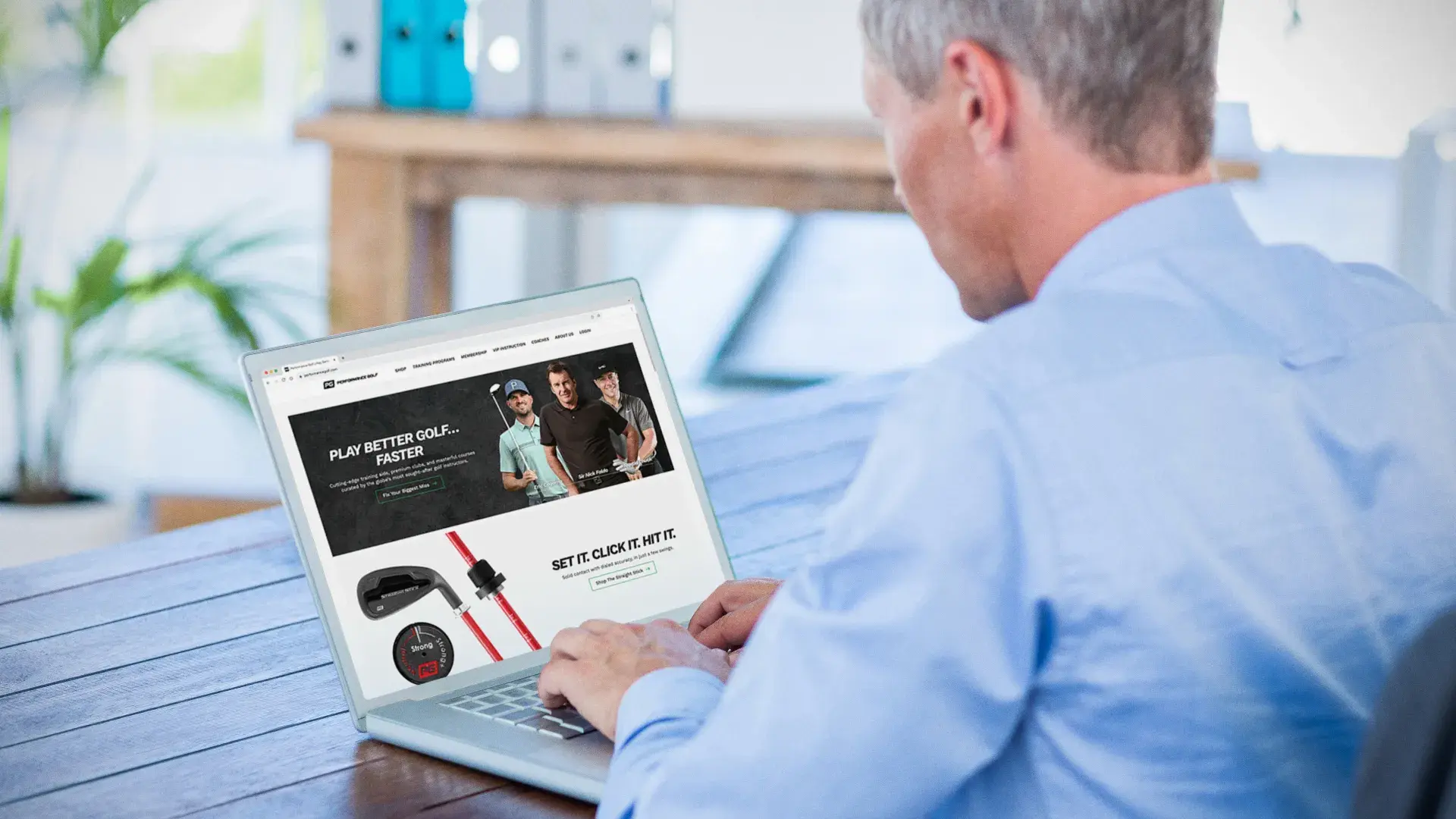 So, Thinking About Trying Out Golf Lessons?
It can be daunting looking for golf lessons to try and improve your game. Do golf lessons, especially online, actually provide tangible results? Are they worth the money? Are they better than in-person coaching?
These are a few of the most common questions we hear from everyday golfers. Today, we'll address these questions, typical golf coaching options, and more to better understand the world of golf lessons.
Casual and competitive golf has boomed since 2020, and more people want to learn golf swing basics to fix bad habits and shoot lower scores. Golf lessons, especially convenient, online options, can help achieve these goals and speed up the learning curve of one of the most complex sports out there.
If you're on the fence about remote or recorded golf lessons, keep reading to see how they can benefit your game, increase your skill, and most importantly, help you have more fun on the course.
The biggest advantage of online golf lessons is that you can work with top-tier coaches anywhere in the world.
The Best Golf Lessons Available Online
Before getting into some details of online golf coaching, let's talk about the different types of lessons and instruction available. Whether you need help with the full swing, short game, or mental side of golf, there is a coach or program that can help!
Training Videos
If you're the type of person who prefers to learn at your own pace, it's hard to beat online golf training programs. These allow you to learn different parts of the game from home when it is convenient for you. They're normally cheaper compared to in-person coaching and come with extra perks and easy access.
Each training is designed to improve a specific part of your game such as achieving perfect lag, effective tempo, fixing a slice, wedge distance control, and more. Even if your swing feels good but want to improve putting or help with a specific club, a DIY course is a great solution.
Check out our vast training of online coaching with different training programs. Our highly-skilled and professional instructors Hank Haney, Martin Chuck, Nick Faldo, Rocco Mediate, Eric Cogorno, and many others offer epic training programs for a reasonable price.
For example, you can fix your swing as shown below with Hank Haney's "Simple Strike Sequence."
Recorded Swing Analysis
Our VIP instruction is an example of a video analysis golf lesson, where you submit videos of your golf swing to a coach or instructor, and they'll provide detailed feedback to help improve. It's typical to send videos with different clubs (irons, driver, etc.) or angles, and this is a good idea! The more information you can give your instructor, the better they can help you improve your swing.
Once they analyze your swing, they'll get back to you with detailed instructions, depending on the coach and program. This type of golf coaching is much cheaper than a 30 or 60-minute lesson and allows you to work with coaches around the world.
With our VIP instruction at Performance Golf, you have unlimited access to your PGA Tour Level Instructor with a monthly subscription! Other programs may just be a single-time payment with a single response–you just have to decide what's best for you and your budget.
If you want to work on your golf swing on your own time, then purchasing and watching pre-recorded training videos may be your best option.
Improving Your Golf Game with Online Lessons
When it comes to online golf instruction, it could be beneficial for you to focus on a specific area you want to improve and break up your lessons into smaller, manageable chunks.
You'll most likely get overwhelmed with trying to gain distance on your swing, getting the correct form, AND improving your putting. Focusing on specific areas of your golf swing with an expert will help you improve your overall game more easily.
Golf Swing Analysis
The most common area of instruction you'll see in golf lessons and instruction is swing coaching; makes sense, right? That's really what we're all here for, and is arguably going to make the most difference when lowering your scores and enjoying the game.
Whether that's fixing a slice, improving your form, or mastering the simple strike sequence, these types of training videos all focus on improving the golf swing.
Speed Training
It's no surprise that golfers are obsessed with distance. The key to more distance is speed; which can be improved with workouts and speed training programs. This is something professionals have been doing for years, but ever since Bryson DeChambeau bulked up in 2020, even amateur golfers want in on the speed.
This type of training can be more physically demanding, so it's important to mix in more technical techniques and practice to give your body a break.
Short Game Golf Lessons
Another popular type of online training is focused on the short game. This might include improving full-shot wedges, chipping/pitching, bunkers, and putting. These are tricky shots – working on them via online coaching can vastly improve your game overall.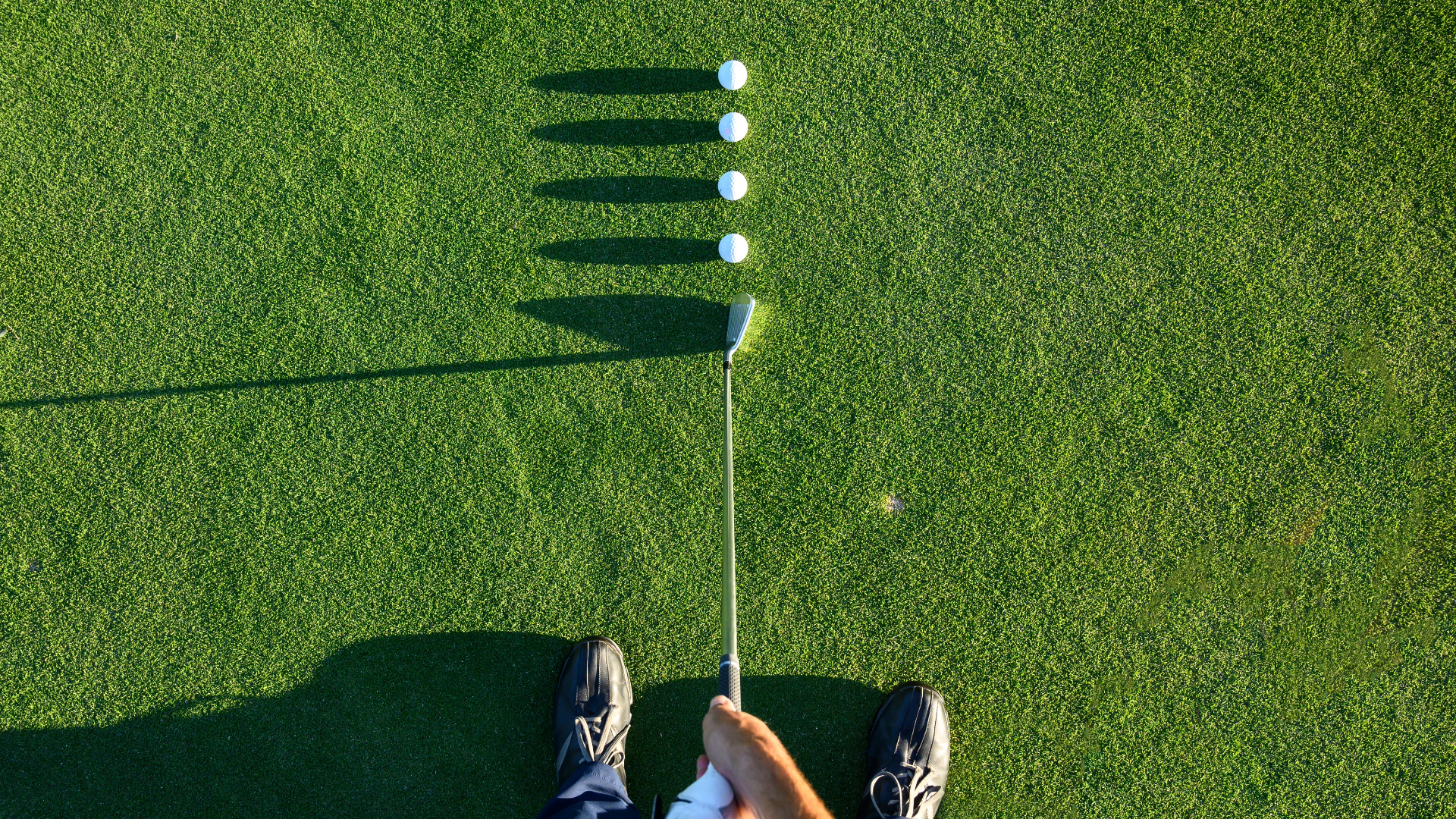 An example of a great short game class is Finesse Wedge Mastery by "Short Game Guru" James Sieckmann, which could shave 8 to 10 strokes off your round!
There are a lot of aspects to the short game that could be improved by watching a simple video with expert tips.
Golf Lessons: The Pros and Cons
Now that we've covered some of the most common types of golf lessons, let's review the pros and cons of working with a coach online.
There's Tons of Pros to Online Golf Coaching
The biggest advantage of remote golf lessons is that you can work with coaches anywhere in the world and take advantage of the most skilled professionals possible. If you live in a smaller town or a place without a ton of coaching options, you no longer have to let geography dictate your coaching choices.
Online golf instruction is typically a lot more affordable than in-person lessons, which is a huge bonus.
We're all extremely busy, so a major advantage of working with a coach online is availability.
Finding time to work with a coach in person for any type of lesson isn't easy for coaches or players. But with online coaching, there is much more flexibility and a higher chance of players actually getting help with their game on their own time.
Lastly, instructions and lessons can often be referenced after the first coaching lesson. Whether it's a video, diagram, or a written guide, being able to look back and have these tips for your records is indefinitely valuable. More and more in-person coaches are also doing this as it provides a major benefit for players after the lesson.
Cons of Online Golf Coaching
The biggest downside to online lessons is that for some, it's difficult to incorporate swing changes without a physical person there correcting them. Some players prefer the in-person route as they can feel the changes their instructor is trying to make to their form.
Another possible downside to online golf lessons is that it's not always easy to get the right equipment and space to record your swings for submission. Otherwise, it's hard to find many downsides to online coaching.
Overall, there are far more pros than cons when it comes to online or digital golf lessons.
Alternatives to Traditional Golf Lessons
Not sure if golf lessons are right for you, or maybe just not right now? Here are some other ways to improve your golf game without a specific coach helping you out on a regular basis.
Training Aids
The first alternative to any type of lesson are training aids to help improve your swing through a special mechanic. Think of them as more of a "DIY approach" that you can practice with on your own time.
Check out our top-rated swing training aids to help cure some of the biggest amateur golf issues.
Straight Stick: Want a swing trainer that provides immediate feedback on your mechanics? Then the Straight Stick is for you as it engrains a well-timed release and clubface control to help with casting or slipping. The auditory and sensory feedback will help you dial in your swing fast.
The Launch Deck: Want to fix your slice and add distance? You'll love the Launch Deck – designed by Tiger Woods' former coach Hank Haney – as it can help straighten out your ball flight in one session. It's small, portable, and at a great price that can help you master one of the most important clubs in golf.
Instructional Golf Books
If you're just getting started and on a budget, instructional books can help you learn more about different facets of the game. A quick search on Amazon for "best golf books" and you'll find hundreds of thousands of great choices.
Some of the most influential players in the game have published helpful books including Tiger Woods, Jack Nicklaus, and our very own coach Nick Faldo. There's nothing like learning from some of the most accomplished players in the game!
YouTube and Social Media
If you're looking for a free way to learn about any part of the game it's hard to beat YouTube and social media. Whether you want to learn a certain type of swing – such as the stack and tilt – or a specific move, there is likely a video covering the topic.
The Performance Golf YouTube channel has top-rated coaches to help all aspects of your game, along with special appearances by influential players, coaches, and more!
Working on your Mental Game
Working with a sports psychologist or mental golf specialist can help take your range game to the golf course. This is even more important for tournament golfers who want to compete at the highest level.
These lessons usually happen off the golf course and review different parts of your game including pre-shot routines, managing emotions on the golf course, handling pressure, and more. Also, don't forget to check out these mental golf tips to make your mind a weapon on the golf course.
Closing Thoughts
Online golf instruction is a modern way to improve any part of your game. No matter where you live, you can work with top coaches around the world to work on your weaknesses.
Some of the biggest benefits of golf lessons and online coaching include:
Saving money.
Getting video feedback.
Having more coaching options.
And a lot more. If you want an all-in-one type of coaching make sure to check out Scratch Club.
Inside Scratch Club you can learn from three top golf coaches on your schedule with zero risk thanks to our 30-day money-back guarantee. For only $97/year you can dial in the six most important parts of your game including putting, chipping/bunkers, wedge game, mental game, driving, and ball striking.